Thursday, July 08, 2004
Frankie Goes To Hollywood - 'The Power Of Love'
Part 2 in an occassional series of rediscovered musical gems.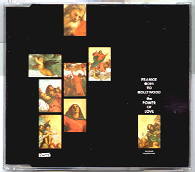 The final installment of one of the greatest trilogies of singles ever from one of the most infamous groups in the history of pop. Following 'Relax' and 'Two Tribes' to the top of the UK charts in December 1984, I only consider this a lost single due to it's supposed status as a Christmas record (all part of ZTT's ruthless marketing strategy no doubt.) Of course, aside from the nativity scene video and sarcastic season's greetings on the B Side, this is nothing to do with Christmas, and everything to do with soaring passionate love, love, love. The fact it only seems to turn up in the latter months of the year is a huge loss. This grandiose production is surely one of the greatest love songs of the 20th Century, dispelling the idea that Frankie were just an obscene bunch of Scouse wooftahs who should be banned rather than celebrated. The only downpoint is that they never really followed this up.
I was inspired by picking up the 12 inch of this in a charity shop, but it's still available in it's original form on the
Welcome to the Pleasuredome
LP. Just don't buy the remixes, for god's sake. They're all shit. And no, it's not a cover of the Huey Lewis and the News track...
Stick it on and turn it up loud!
All opinions expressed within the pages and comments of this blog are solely those of the author, and not of his employers or associates. If you have any complaints, corrections or queries regarding any of the material contained within, please contact the author via
email
. Thanks for reading!