Sunday, August 01, 2004
London Calling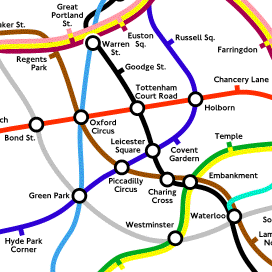 London is the second most expensive city in the world (just behind Tokyo.) London is dirty, polluted and overcrowded. People in London are rude and unpleasant. The transport is a nightmare. It's full of fakes, phoneys, suits, tourists, rahs, criminals and arseholes. Such is the accepted wisdom. And whilst I agree that a lot of the above is true, I still can't resist the place. It's vibrancy, the excitement and energy, it's unique.
I think my love of London began as I was growing up. My hometown of Bushey in Hertfordshire is just on the edge of London. It's as if I spent my whole childhood and adolescence with my face pressed up against the glass, watching the excitement from the outside, entranced by what I saw going on. I used to love travelling on the tube and visiting famous landmarks, but my parents had had quite enough of their own time in London to consider dragging two screaming kids around it, so these were rare treats. When the whole Britpop thing kicked off, I was only 13-14, so not really old enough to go and enjoy the treats of Camden. Obviously, i dreamed of sitting in the Good Mixer, with a bass guitar slung over my shoulder, and some record company exec/idiot signing me on the spot. (And let's face it, had i been 5 years older it would've been a distinct possibility.)
But no, I had to sit out Britpop, content with the records and reviews in the music press. I spent my uni years at Nottingham (Rock City) so i made up for it there, but I always knew I'd end up in London. And here i am, living the dream. I'm living in North London (my favourite bit), working in W1. And I just love it. I honestly wouldn't want to live and work anywhere else. Sure, things could be better and cheaper, but nothing compares to the excitement of Camden market, or walking through Soho at 4am, or seeing a flick in Leicester Square, or record shopping on Covent Garden, and so on.
That said, I would sincerely like to escape it every now and then. I have holiday booked in a month's time, and I cannot wait!! I might well visit some of my other adopted cities; Nottingham and Bristol perhaps. Or make it out into the countryside and look at cows. Or maybe dip my toes in the Atlantic down Cornwall way. Sometimes I fantasise about living somewhere peaceful and quiet away from the hustle and bustle, but i know within about a week I'd be bored to death, and I'd arrive back in London, on the dirty streets, avoiding violent beggars, even more violent commuters and clueless tourists with a gay abandon.
All opinions expressed within the pages and comments of this blog are solely those of the author, and not of his employers or associates. If you have any complaints, corrections or queries regarding any of the material contained within, please contact the author via
email
. Thanks for reading!