Monday, September 20, 2004
I Wanna Dance With Numbers
Ok, so we all know the rules, don't we? To find out the youngest person you're allowed to date, you divide by two, and add seven. So for me, I'm 24. Divide by 2 is 12, plus 7 is 19. Which is about right. We can write this algebraically as follows:
x=(y/2)+7
where
y
is your age, and
x
is the age of the person you can date.
Now, you can work out the oldest person you can date by flipping that all around like this:
2(y-7)=x
where
y
is your age and
x
is the age of the oldest person you can date.
In my case it's 34. You see, maths can be fun.
Ok, now we need a good example.
My good friend
Toby
informs me that he has taken a shine to Marisa Tomei.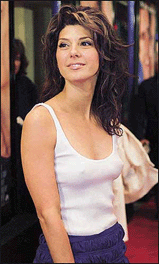 But why?
TØßY says:
shes a NY jew, perfect and her dad was a lawyer
Del says:
and she won an oscar!
TØßY says:
and shes part italian
So that clears that up. Now, Toby is 24, but, disaster! Marisa is 39! This puts her out of his age bracket. Instantly sensing that this has sent my good friend into a spiralling circle of despair and self destruction, I once again turn to my good buddy Maths to save the day.
Here's what we know. For the sake of chromosonic congruency, we'll say Toby=
y
and Marisa=
x
.
Now, the distance between them age-wise will always stay the same: 15 years.
So:
y=x-15
And we already know that:
y=(x/2)+7
So now we can equate the y's and say:
x-15=(x/2)+7
So:
x-22=x/2
2x-44=x
x-44=0
Therefore:
x=44
Eureka! So, when Marisa is 44, Toby can officially date her. By then Toby will be 29. What success! Cupid had better get twanging his bow in 5 years time, and Toby has plenty of time to ponder over what to do with Marisa's Oscar.
All opinions expressed within the pages and comments of this blog are solely those of the author, and not of his employers or associates. If you have any complaints, corrections or queries regarding any of the material contained within, please contact the author via
email
. Thanks for reading!