Tuesday, November 16, 2004
ABC - 'All Of My Heart'
Part 8 in an occasional series of rediscovered musical gems.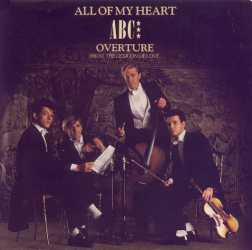 Oh wow... It's an oft used phrase, but they really don't make them like this any more. In fact, it's hard to think of a time other than when ABC existed that anyone would make anything this wonderfully flamboyant and over the top. I guess you could say it's synth pop, white soul or new romantic, but it's strangely timeless and overwhelming. Trevor Horn's production is like a score to the best wide screen Hollywood technicolour melodrama ever made. Martin Fry's voice is the lost every man, both deeply cynical, but also hopelessly romantic. It's an explosion of dramatic emotion, it just sounds enormous!
'All of my Heart's parent album,
The Lexicon Of Love,
is a masterpiece that's recently been rereleased with a stack of bonus tracks. All completely superfluous, of course, because the original was sheer perfection. The sound of a band and producer aiming to make pure, brilliant, shiny, extravagant and utterly sublime pop music that sweeps you off your feet into a delightful world of love, heartbreak, laughter and melancholy. It makes Frankie Goes To Hollywood sound meek and understated, and is an example to every popstar wannabe on how to make ballads effecting and, essentially, not shit. Pop has never sounded so good.
All opinions expressed within the pages and comments of this blog are solely those of the author, and not of his employers or associates. If you have any complaints, corrections or queries regarding any of the material contained within, please contact the author via
email
. Thanks for reading!