Friday, November 05, 2004
It's Not The End Of The World
Concerned about all the bad stuff going on in the world? Well, just refer to the
UK Department Of Social Scrutiny
. There's really nothing to be worried about, it'll all work out. Why not follow the advice of the leaflet below? Just click, it couldn't be easier...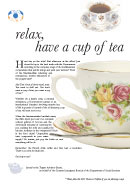 There you go, isn't that much better?
All opinions expressed within the pages and comments of this blog are solely those of the author, and not of his employers or associates. If you have any complaints, corrections or queries regarding any of the material contained within, please contact the author via
email
. Thanks for reading!