Thursday, July 29, 2004
Marquee Moon
All too often it gets a kicking, but sometimes you've got to take your hat of to the wonder that is TV. Granted, 99% of stuff on the box is total crap. But amongst the rubbish are some gems that just make you smile and resurrect your faith in humanity. Here are a few shows that have brightened my world just recently...
The Simpsons
Oh what an original choice, but we might as well get the greatest television programme in the history of broadcasting out of the way first. I'm not going to list favourite episodes or quotes or anything like that. Well... except for one of my favourite touches... the ironic telephone hold music that seems to occur all over Springfield...
Like in
Homer Alone
, when Homer calls the missing baby hotline we hear Player singing "Baby come back, you can blame it all on me. I was wrong, and I just can't live with out you" from 'Baby Come Back'.
And in
Saturday's Of Thunder
, Homer calls the Fatherhood institute and gets Ugly Kid Joe singing "And the cat's in the cradle and the silver spoon, little boy blue and the man in the moon, when you coming home dad I don't know when" from 'Cat's in the Cradle'
And of course, in
Stark Raving Dad,
when Homer ends up in a mental institution,
Marge calls the Bedlam Wrongly Commited Hotline, she's greeted by Patsy Cline's 'Crazy'.
Just sublime. Let me know if you can think of any more.
Sticking with cartoons,
Dexter's Laboratory.
Probably the smartest of pure kids cartoons. The episode i caught this evening parodied
Ghostbusters, Poltergeist
and Jacko's
Thriller
. Ok, i know it's to appeal to parents, and they're not exactly original references, but my god was it funny! My flatmate wondered what the hell i was watching. Pure magic. And the Dad totally rules.
Finally, it's pink programming time. Firstly
Will and Grace.
Apparently, after watching it for a while all the jokes become the same and you go off it. Well, it hasn't happened to me yet. Still as funny as it's always been. Just like all great American comedy it's mean, facile and the characters all hate each other. God, it's wonderful. What was
Friends...
?
But now for the feelgood queens.
Queer Eye For The Straight Guy.
They take well meaning losers and turn them into lovely people. It's the most sweet, heartwarming and downright funny makeover programme ever, and i can't get enough of it. Call me a big girly sap, but seeing the loserguys working hard to impress their girlfriends or wives and being romantic is just great. Like the guys say, 'We're not here to change you, we're going to make you better.' Self improvement never felt so good.
Wednesday, July 28, 2004
Another Day In Paradise
Phill Collins and Dolly Mixture?! It's been one of those days.
Guns Don't Kill People, Rappers Do
Just some random sites that've caught my eye...
Are you woo?
Someone has been randomly writing "woo" on lots of places in Bristol. Join the hunt for the elusive "woo".
Music Plasma
Check out how all your favourite bands link up, and find out other bands that you're bound to like, too. Great stuff!
Goldie Lookin Chain:
Wales's premier rap hip hop posse's homepage. Check out the free mp3's and Tony Hart's gallery of Clart Art. I'm sure we'll get bored with them in about 5 minutes, just like we did with the Darkness, but you've gotta love "Gun's Don't Kill People Rappers Do!" Especially as the video was filmed in Watford's premier shopping experience, the 1960's concrete disaster that is Charter Place!
Hanging On The Telephone
For those of you without speakers, this was my first (and let's face it, probably last) audio post. I'm slightly worried about how i sound, but I'm sure it has everything to do with the transatlantic mobile signal, and nothing to do with my voice.
Tuesday, July 27, 2004
Hefner - The Hymn for the Cigarettes
Part 4 in an occasional series of rediscovered musical gems.
Strange choice this really, as I've never smoked. I've always just liked it, and for some reason it's been stuck in my head this afternoon at work, so here we are. Originally heard on John Peel, and it featured highly in one of his Festive Fifties a couple of years back. Rather than write a long winded review, I'm just gonna post up the lyrics, cos I think they're great!
No one called, no one wrote, no one phoned,
So no one knew that I was with her on my own.
She smoked on my bed cause she thought it would annoy me,
But I love to watch the girls smoke in my bed.
I love to watch the girls smoke in my bed.
I love to watch the girls smoke in my bed.
How can she love me when she doesn't even love the cinema that I love.
What does she feel if she doesn't have the feeling that I have in my fingers.
This joy I have could lift this ceiling from its rafters but I'm not laughing.
We feel nothing, so we search for nothing, so we achieve nothing, love.
Lucky Strikes remind me of my friends out on the west coast,
Camel Lights remind me of my ex-girlfriend at Christmas time,
Marlboro Reds remind me of giving up in Berlin,
B&H remind me of not giving up but giving in.
B&H remind me of not giving up but giving in.
B&H remind me of not giving up but giving in.
How can she love me when she doesn't even love the cinema that I love.
What does she feel if she doesn't have the feeling that I have in my fingers.
This joy I have could lift this ceiling from its rafters but I'm not laughing.
We feel nothing, so we search for nothing, so we achieve nothing, love.
Just lovely!
No Substitute

Like all boys, I had dreams of what I'd be when i grew up. Racing driver, popstar and, of course, footballer. I dreamt of scoring the winning goal in the World Cup final, no less. Being a national hero. But sadly I was afflicted with an unfortunate case of "being shit" which proved to be too much of a hindrance. However, on one balmly summer evening, sometime in my early teens I came close to touching my dream.

Not Wembley Stadium, but Bushey Hall sports field. The match programme read not England vs Brazil, but Bushey & Oxhey vs Watford. And there wasn't a match programme. Or any supporters. No, this was a 5 aside grudge match, fought between two legendary sides in the local game. I won't go into the full team lists, but if I mention the likes of Jonny "Gando-man" Gandy, Roger "Ricky" Lake and Mike "Mike" Lewis, you'll instantly recognise the calibre of professional I'm talking about.

Anyway, I'd been stuck in goal due to the fact that I was a lethal combination of rubbish, tall and fearless. Indeed, I thwarted Watford's opening attack by diving headfirst at the feet of the terrified striker, claiming the ball, and nearly crippling the poor lad. First blood Bushey. In fact, almost all of the blood spilt was to our advantage by the closing stages of this epic battle. But there was still one final act to be played out, one final strike in a contest of champions.

The game was finely balanced. The score of Bushey & Oxhey 8 - Watford 0 says it all. Everything was still play for, and the stakes were getting higher by the second. Things were getting frantic as the clock ticked away. I valiantly quoshed another fruitless foray forward from the plucky Watford attack, and stylishly rolled the ball back into play. It was then that I saw my chance to seal the game once and for all. Jonny 'Gando-man' Gandy had made significant progress along the right wing, managing to stay on his feet right up to the halfway line. Mike had thrown the Watford defence into disarray due to his utter contempt for the offside rule. I sprung into action, and with all the gusto of a man who thought that circuit training is something you did with model railways, belted up the pitch as fast as my legs could carry me.

Several minutes later, Jonny was still busy performing his trademark Cruyff turns when I approached the opposition's D. "Jonny! Line it! I'm clear!" I bellowed, in what felt like slow motion, but was in fact due to a distinct lack of breath. Jonny looked up, looked confused and then knocked in a flawless cross the would've had Ryan Giggs hanging up his boots in admiration. I skillfully dodged a floored Watford defender, and from the edge of the box, rifled the ball first time into the top right hand corner, swerving the ball away from the desperately diving keeper.

I sunk to my knees, arms aloft, my lungs burning from the exertion of running close to 100 yards. My teammates congratulated me with valiant cries of "What are you doing, you dick?" and "You're supposed to be in goal you twat." I lapped up the plaudits, soaking up the atmosphere, realising with amazing clarity that this was to be the single greatest moment in my footballing career. Something to look back on, as Geoff Hurst does on that final goal against Germany, as Michael Thomas does on winning the league for Arsenal in the final minute of the season against Liverpool, as Dave Beasant does on saving that penalty in the FA Cup Final. I'm not comparing my personal moment of glory to those great feats, but it was certainly up there with anything, say, Luton Town have done.

The victory sealed, Watford respectfully accepted defeat. We left the pitch as the sun began to set over the old masonic buildings, casting long shadows across the now silent battlefield, with only divots and stud marks left behind to betray any trace of the day's ferocious contest. I took the decision to retire from the competitive game to take up a coaching role in front of any television set that would have me. But i still have my memories of a day where one goalkeeper's strike turned the game on it's head. To mix the words of the great Bill Shankly with those of the British Dental Association, it only takes a second to score a goal, but the effects can last a lifetime.

Saturday, July 24, 2004
Dreadlock Holiday
Thank God for cricket. The perfect sport for any summer's day spent with a hangover. Open the patio doors, turn it up loud, lie on the sofa and soak it up. We don't even need to be playing well, but in a bizarre twist of fate, we actually are. Football is the sport that I'm most passionate about, but I think that's why I actually prefer watching cricket. I find it immensely relaxing, and the fact that most other normal humans don't understand it, let alone enjoy it, is a bonus. It's the only sport I've played at a competitive level, and as far as i know the only game in the world that can last for 5 days and still not come up with a result. It's our greatest gift to the commonwealth, and it's building in popularity, too.
Thanks to the holy trinity of wonderfully idiosyncratic coverage from
Channel 4
,
Test Match Special
and
The Guardian
, it's never been easier to enjoy the great game. Praise be.
Picture This
Money (That's What I Want)
Thursday, July 22, 2004
Music Is The Answer
Never give out your password or credit card number in an instant message conversation.

Stevious - Viva Fear says:


I was just having a proper radge time with some bitch hard maths finding it dead complicated and that, and then close encounters by mogwai came on, I was instantly calmed and the matrices just solved themselves. Music is ace.
And what more could i possibly add?
Wednesday, July 21, 2004
The Divine Comedy - 'Come Home Billy Bird'
Part 3 in an occassional series of rediscovered musical gems.
Only released a few months ago, but sadly sunk without trace. This was, lest we forget, Mark and Lard's final single of the week on Radio 1, and has an added poignancy as such. But that does not take away from the soaring majesty of this record. Neil Hannon's words and music dispense with the smugness that drags down some of his other work, and this is pure innocent wide eyed wonder. The added touch of Lauren Laverne's sugar-sweet backing vocals makes you want to physically kick down Xfm's door and manhandle her back into a recording studio. (Her post-Kenickie EP from sometime around 1998 promised so much as well. For fuck's sake, Lauren, please please please come back!)
Bittersweet and seemingly unique in today's musical world, this is already a great lost single, and should be placed on every compilation tape you make for the next 6 months. A character song that doesn't cloy, utterly delights in the banal and reminds you of the very best bits of British pop from the past 40 years. Yeah, I rather like it.
And I mean it, Lauren.
Monday, July 19, 2004
To The End
Having just returned home from another fruitful trip to various record shops, I wonder how long it is before I reach the level of the
Peel Paradox.
Simply put, John Peel now owns more records than he physically has time left to listen to. For which, of course, he has my total admiration. Such commitment to the cause of amassing round bits of plastic is commendable to say the least.
I now have to work out where I'm going to put all this stuff. Oh well...
Now I'm very much aware that 99% of the people reading this won't care what i bought, but i know that Steve does, so here you are Steve in tiny lettering:
Skinnyman - I Will Survive 12"
Grandmaster Flash and the Furious Five - The Message (Paul Nice's Super Duty Bootleg Mash Up) 12"
Joy Zipper - Out of the Sun 7"
PJ Harvey - You Come Through 7"
TV on the Radio - Staring At The Sun 7"
Girls Aloud - The Show - Ltd 3" CD
NERD - She Wants To Move (Daft Punk Club Disco Mix)
Franz Ferdinand - Take Me Out (Daft Punk Mix)
Snow Patrol - Spitting Games 7"
Unknown Stuntman - Digital Graffiti/2,000 Kilos Of Christ 7"
Phoenix - Everything Is Everything 7"
Emmylou Harris - The Ballad Of Sally Rose CDLP
Talk Talk - It's My Life CDLP
The Pixies - Bossanova CDLP
The Pixies - Trompe Le Monde CDLP
Zombie Nation
Horror films are great. I mean, what's not to love? Buckets of blood, senseless violence, a foreboding sense of doom and lots of lovely metaphorical between the lines meaning just below the surface. Me and the boys had our second Fright Night on Saturday, as the girls were out of town, and fun was had by all. We couldn't quite match the line up from the first one, which comprised of
The Evil Dead, Dawn of the Dead
and
Braindead
, but we did have the excellent
Blood Simple, Day Of The Dead
and
Nude For Satan
, which was as good as it sounds. We even had
Day of the Triffids
the night before, which is enough to put you off gardening for life.
Now, a lot of this was inspired by our 2 viewings of the wonderful
Shaun of the Dead,
which I've already bigged up several times here. There are of course plenty of references, which made us feel very smug, but interestingly, a lot of stuff which had very obviously influenced
28 Days Later
as well.
Now while I'm happy to admit that I do really like
28 Days Later
, the realisation that it isn't quite as original as we once thought it was sticks in the throat a little. Oh well.
And for those of you sat there sneering at our silly little gore splattered testosterone fuelled fright fest, here's a few facts for you to chew on. The men behind
Blood Simple
were the Coen Brothers, who went on to direct the Oscar winning
Fargo,
as well as
The Big Lebowski
and
O Brother Where Art Thou.
Braindead
(along with the equally wonderful
Bad Taste)
was directed by Peter Jackson, who recently completed the
Lord Of The Rings
trilogy. And
The Evil Dead
series was created by Sam Raimi who directed
Spiderman
and
Spiderman 2.
Not a bad pedigree really!
And as for
Nude for Satan
, I can't honestly tell you what the hell it was all about. Originally Italian and dubbed into English, I think it's fair to say something was lost along the way. Like any semblance of plot or narrative. But, at 3am that didn't really seem to matter all that much. Here's to Fright Night 3...
Thursday, July 15, 2004
The Scientist

No band seems to inspire such feverish debate of late as Coldplay. Many have accused them of being insipid bed wetting student types who wouldn't know rock n roll if it came up and bit them on the arse. Others are enthralled by their intimate yet stadium filling sound and delicate lyrics. However, of late, the second camp seems to be far outstripping the former, especially across the pond. Brandy not only namechecks them on her upcoming single, but samples 'Clocks' on her album to fine effect. Justin Timberlake endorses them on a daily basis, and even David Grohl's girlfriend has fallen for Chris Martin's heartfelt delivery.

And I for one am happy with that. They're a decent little band. There are plenty of no-talent hellraisers to keep the rock n roll indie snobs happy, but I rather like a decent tune to listen to at the end of it all. Ok, sometimes they seem almost embarrassingly nice, but at least they're being honest, rather than hiding behind some drug induced parody of themselves. They may not be desperately cutting edge, but they've written some cracking records, and seem happy for others to reinterpret their work through sampling, showing they're not blustering purveyors of REAL MUSIC who believe that pop is for 13 year old girls and anything electronic should be smashed to pieces and burnt.

So, yeah, hooray for Coldplay. Very nice men. As I've said before about the Streets, sometimes bands get huge just because they're really good. Coldplay are another fine example.



Monday, July 12, 2004
Far Out
The mammoth Parkspliced remix project has just gone live online. The idea was to remix and mash up the whole of Blur's Parklife album, as well as some of the B Sides from the album's singles. There are mixes from the likes of McSleazy, Pojmasta and Go Home Productions (who recently worked with no less than David Bowie).
Oh, and I've done one too, under my DJ Nite alias...
Check it out, and remember to donate some money to the charities as listed on the page. To go there, just click on the lovely cover above.
Sunday, July 11, 2004
Can't Buy Me Love

Gary Oldman. A fantastic actor, star of many multimillion dollar blockbusters AND critically acclaimed independent pictures. A cinematic legend of our time, and one of the greatest living Englishman.

So why the FUCK is he doing a Barclays advert?

Money, naturally. How much I wonder. An offensive amount, I would imagine. And of course he's not the only one. Donald Sutherland joins him on screen, and Tim Roth and Samuel L Jackson have also appeared, and this is all just for Barclays. Many other talented actors, directors and music artists have sold out for adverts and promotions when they really don't need to. And I find it hugely disheartening.

Perhaps I'm being a little naive. I accept that upcoming actors, etc, have to look for any leg up they can get to gain access to the industry. And not everyone in the limelight has it as easy as we think they do. But there is an idealistic streak in me that objects to multi-millionaire's hawking their celebrity persona simply to sell us products that we don't really need. I don't want to go all 'No Logo' on your ass, but even though advertising is a necessary evil, it is an evil nonetheless. So i find it hard to take anyone seriously once they've used their image to sell me crap, be it Barclays financial services or Daz Automatic.

The $64,000 question is of course, what would I do in their situation? If someone said, "here, take a million pounds for a week's work" would I, could I turn it down? And the honest answer is, of course, I don't know. But I'd like to think that I'd at least consider my artistic integrity before selling out my soul to a faceless corporation.

Thanks, I'm here all week, try the salmon. (Well, Bill Hicks is dead, so someone's gotta do it.)

YMCA
Congratulations to Ben and
Jo
who got married yesterday. What a wonderful day was had by all! And (what with this being a muso crap kinda blog anyway) I must salute Ben's playlist for the reception. Every disco classic worth it's salt, and the cream of the last 20 years of pop.
And I'd also like to know what was in that pint of swampjuice (or whatever the hell it was) that I had to down. It tasted like a mix of Special Brew, Lambrini and lighter fluid.
Oh to wake up on Sunday without a hangover. I can feel a detox coming on.
Thursday, July 08, 2004
Frankie Goes To Hollywood - 'The Power Of Love'
Part 2 in an occassional series of rediscovered musical gems.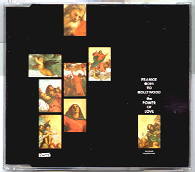 The final installment of one of the greatest trilogies of singles ever from one of the most infamous groups in the history of pop. Following 'Relax' and 'Two Tribes' to the top of the UK charts in December 1984, I only consider this a lost single due to it's supposed status as a Christmas record (all part of ZTT's ruthless marketing strategy no doubt.) Of course, aside from the nativity scene video and sarcastic season's greetings on the B Side, this is nothing to do with Christmas, and everything to do with soaring passionate love, love, love. The fact it only seems to turn up in the latter months of the year is a huge loss. This grandiose production is surely one of the greatest love songs of the 20th Century, dispelling the idea that Frankie were just an obscene bunch of Scouse wooftahs who should be banned rather than celebrated. The only downpoint is that they never really followed this up.
I was inspired by picking up the 12 inch of this in a charity shop, but it's still available in it's original form on the
Welcome to the Pleasuredome
LP. Just don't buy the remixes, for god's sake. They're all shit. And no, it's not a cover of the Huey Lewis and the News track...
Stick it on and turn it up loud!
City Girl
I know I've already gone on about this before, but I'm still deeply in love with Sofia Coppola's
Lost In Translation
I recently picked it up on DVD, and it's reignited the sublime melancholy I felt when i saw if for the first time. I've also been gluing the superb soundtrack to my turntable as much as possible. The whole movie hangs on the atmosphere that director Coppola and musician Kevin Shields create. It's like taking a warm bath, cosy yet disjointed. It's basically ace.
Also watch out for the apparent subtext of the breakdown of Copolla's marriage to Spike Jonze. See if you can spot who he is, and the not so subtle portrayal of his celeb mates Cameron D and the Beastie Boys.
Still, that's neither here nor there, really. Cos it's Bill and Scarlett that steal everything. How he didn't get an Oscar shows what a bunch of idiots the academy truly is, and Johansson puts in a performance of such subtlty and poise, you know she's going to be a star for years to come. And let's not forget the film's other great performer, Tokyo itself. I find the whole neon confusion utterly seductive. One of the things I love most about London is the sheer sense of excitement and energy you can feel in the centre, and it's evident that Tokyo more than shares this characteristic. Anyone fancy joining me? We can do karaoke and stay up all night. It'll be great!
Wednesday, July 07, 2004
Sweet Like Chocolate
Today I bought Kylie's 'Chocolate' on 12 inch picture disc.
The soul reason for this was because I've already bough 'Slow' and 'Red Blooded Woman' on equally attractive picture discs. Will someone please slap some sense into me?
Thanks.
Actually, on this note, I was reading an article in the Times 2 supplement. Well, I kind of skim read it, so don't sue me if I get it wrong. Basically it was talking about what makes men happy. All the stereotypical stuff was there (beer, football, sex, etc yawn), but what was interesting was an analysis of the way men experience happiness. We apparently enter "happiness zones" where we block out everything else that troubles us in our brains, and totally revel in the thing we're enjoying. Which is completely true from my experience! However, what is also true is that women tend not to experience this. And subsequently women get very annoyed with men because when men are "in the zone" they tend to forget about other things like picking up the kids or doing the washing up.
As ever, it's always nice to have these things pointed out, and it's so true it makes me laugh out loud. I find it an immense satisfaction that i can bury my head in a book/film/tv programme/sport/record and come out the other side as if i have been in a trance, feeling cheerful and refreshed. However, I think it's one of those eternal battle of the sexes things, where knowing the reason why it annoys women isn't going to stop men doing it... because that's what makes us happy. Oh well. I think it might be one of those things where we just have to keep on apologising. So, sorry.
Ooh, the Simpsons is on...yeah, I'll do it later...
Tuesday, July 06, 2004
School's Out

On the tube into work this morning, saw a poor kid sat glumly in his school uniform. He was on a school trip with a bunch of his classmates and a clearly exasperated teacher. Never before have I seen such a depressed looking 8 year old. Poor lad. And I have to confess, I felt an inner pang of guilty smugness. Sure, he's got 15 years or so on me, but he still has to go to school. And I don't. Not ever again. Ever! Hahahaha!

All opinions expressed within the pages and comments of this blog are solely those of the author, and not of his employers or associates. If you have any complaints, corrections or queries regarding any of the material contained within, please contact the author via
email
. Thanks for reading!