Tuesday, August 31, 2004
Pulp - 'Babies'
Part 5 in an occasional series of rediscovered musical gems.
The first Pulp single to really hit the big time and got them on Top Of The Pops. This introduced one Jarvis Cocker to the British public, wearing a T Shirt with the slogan "I Hate Wet Wet Wet" emblazoned across it, something I remember distinctly. Could it have been more perfect? Probably not. The video was also fantastic to behold, with the whole gang brightly lit and looking like the sexiest people to burst out of Sheffield since Phil Oakey picked up 2 waitresses in a cocktail bar.
There are so many great Pulp singles I could've chosen. 'Babies' was followed by the sublime 'Do You Remember The First Time?' (which was the first Pulp recording I owned), as well as 'Lipgloss', then later 'Help The Aged', 'Party Hard' and the recent 'Trees' and 'Sunrise', which was so brilliant that Coca Cola wanted to use it in an ad, but were point blank refused. Hurrah! And I haven't even mentioned anything off the masterpiece that is
Different Class,
which now feels like the genuine high point of the "Britpop" explosion
.
But for some reason 'Babies' really sticks out for me. Tales of adolescent sexual awakening were to become a favourite subject of Jarvis's lyrics, but nowhere does it seem more innocent, wide eyed and exciting. The whole sound is extraordinary, building to the song's, ahem, climax. Subsequent Pulp recordings went further, deeper and in many ways better, but 'Babies' is a perfect song and sums up all the teenager confusion and wonder that was only beginning to surge through my veins as a twelve year old watching Top of the Pops in 1992.
To be honest, if you don't own any Pulp, you should really go and buy the
Hits
compilation this minute. It collects everything from this through to their final single and really will make your world a better place. All Pulp fans should have this somewhere, but it's on
The Sisters
EP and the
Intro
album, which should be easy to get hold of. I really get the feeling that I'm going to be listening back to this in 30 years time in the same way my parents generation listens back to the Beatles and the Stones; a song that takes you back blue sky days where the worst thing to worry about was what was under that girls dress and whether she'd let you find out.
Sunday, August 29, 2004
Trailerpark
Well, that's me if I was in South Park. Click on it to make your own!
And remember that although all the marketing hype around South Park has died down, the show itself has gone from strength to strength. Some of the recent episodes have been nothing short of pure comedic genius. More biting and controversial than ever, but with a new politically satirical vitriol as well. Ch-check it out!
Dai Another Day
Sorry
Yes, those cheeky japesters Goldie Lookin Chain have had a bit of a website update, and it's great! Like an old skool arcade game ZX Spectrum style. Real class. Still keeping just the right side of the annoyance line that the Darkness crossed some time ago. Looking forward to the album, and I didn't think I'd be saying that! Great stuff.
Oh, you want more? Ok, Charlotte Hatherley's album exceeded expectations. Delightful! Nice stuff from the Prodigy. Hardly a leap forward, but it's still like bottled adrenalin. Rediscovered Madonna's
Die Another Day
Bond theme. One of her most underated tracks I think. The production is huge, and she sounds great. I will eventually get round to booting it with Duran Duran's
View To A Kill
. Watch this space. The new Girls Aloud tune sounds totally different, which can only be a good thing. I can certainly hear some of The Beatles Baby
You're A Rich Man
in there somewhere, but whatever. Nice stuff by Skinnyman floating around, might need to get the album. The man Osymyso who did the now legendary
Introspection
(ten minutes and 100 song intros) has a new project which is startling. Find the link at
Boom Selection
before it disappears. And major respect to the man
Steve
, who did me an awesome compilation of tracks. Mouse on Mars, Mogwai, Death Cab, Adem, Four Tet and more people you've probably never heard of. Thanks mate! I shall return the favour.
They're Not Gonna Get Us
You know you've had a good night when you wake up seemingly unable to see, with a bright purple bruise on your arse and a Friday Guest Pass to the Reading Festival wrapped round your wrist. How it got there was a mystery, as is the majority of the rest of the night. All this after a day working on a binge drinking special. The irony is nothing short of obvious.
One thing I do remember however was an argument that I sort of started. Well, I didn't directly start it, it was actually the fault of my T Shirt. It's a nice Japanese one with 2 manga style (legal age!) schoolgirls lying opposite each other. The subtext is pretty clear. I was accused of something bad by the people i was chatting to. A bit of sexism, maybe paedophilia, and, bizarrely, a touch of homophobia. Luckily, with the power of drinking on an empty stomach, i mustered an excellent riposte with a claim that i was acting as a pro-active hero for the lesbian community (actually a rather brilliant reference to Howard Stern in 'Private Parts', which was sadly lost on my audience.) Anyway, when it became clear that this line of defence was failing, I did the honourable thing and changed the subject with an amusing self deprecating anecdote about my own private life. The fact that I always fancy lesbians.
Now I can already see in your eyes the same disdain that was clearly evident in the eyes of my audience last night. But please, let me explain. It's not that I am attracted by the prospect of some menage-a-trois fantasy. Frankly it sounds like far too much hard work. Essentially, I fancy lesbians before I realise they're lesbians. Yes, that's right. All the time a girl will catch my eye, and then something will click... and yes, she's batting for the other team. Example. I used to drink and occasionally DJ in one of Nottingham's premier drinking establishments, The Happy Return. So did the university women's football team, a significant number of which were apparently gay. So a typical pub coversation would go something like this:
Me: Oh, she looks nice.
Mate: She's with the women's football team.
Me: So she's...?
Mate: Yes, a lesbian
and then
Me: I quite fancy that girl at the bar there.
Mate: Her? With the short hair?
Me: Yeah, I might go and...
Mate: Lesbian.
later still...
Me: Cor, check out-
Mate: Lesbian
Me: - that girl over... d'oh!
The exact thing happened walking around Tesco this afternoon. Cute girl, mental "hello there!", glance to her left, she's holding the hand of another girl, and, well, I don't want to drop to cliches and stuff like that, but let's just say even I'm not that naive. So it seems that i fancy the lesbian look (and can i just say to any ex-girlfriends reading this, i don't JUST fancy the lesbian look, so don't get mad at me. And while I'm at it, I'd like to say sorry for not calling... and anything else i did wrong. Thanks!) Short hair, yep. Perhaps a little androgynous, tick. Often quite leftfield, ding! Of course, these things are all dreadful stereotypes, but as with all things, they're stereotypes because very often they're true. And then, like all men, I guess I'm privately curious about the whole affair, and, like the rest of the gay scene, it's exciting to someone who's straight because it's different and a bit out there, which is cool.
So, what's the point of this? Well, other than potentially offending anyone reading this who actually is a lesbian, used to go out with me or who I've ever approached, the fact is it's a bit annoying actually. I know plenty of girls who always seem to fancy gay men, so I guess it cuts both ways (some of them actually thought I was gay, which I actually took as a big compliment, cos gay men certainly take care of themselves better than straight ones. Well, more than i do, at any rate.) Thankfully, so far I've managed to skillfully avoid being knocked back because I'm of the wrong sex, but I guess it's actually preferable to being knocked back for being a munter. And to the next straight girl I ask out:
It's not because I think you look like a lesbian.
Not that there's anything wrong with that....arrrrgh! Could someone pass me that shovel please?
Thursday, August 26, 2004
Generic Post Template
Insert Song Title
***Semi relevant set up

***Random Incoherent Surreal Rambling

***Smug pay off

Repeat
Tuesday, August 24, 2004
That's Not Really Funny

It's strange, isn't it. You stand in the middle of a library and go 'Aaaaaaagghhhh' and everyone just stares at you. But you do the same thing on an aeroplane, and everyone joins in. You know, somebody actually complimented me on my driving today. They left a little note on the windscreen, it said 'Parking Fine.' So that was nice. I went to the dentist. He said 'Say Aaah.' I said 'Why?' He said 'My dog's died.' A blind man walks into a shop with a guide dog. He picks the dog up and starts swinging it around his head. Alarmed, a shop assistant calls out: 'Can I help, sir?' 'No thanks,' says the blind man. 'Just looking.'

Thank you Tommy Cooper, and good night!


Monday, August 23, 2004
K Sera Sera
10 years ago today, on the Isle of Jura off the coast of Scotland, 3 men gathered in an abandoned boat house in the early hours of the morning. They had with them £1 million in £50 notes, a camcorder and some matches. It took 55 minutes for them to become the first people ever to burn a million quid. They were Bill Drummond and Jimi Cauty of the K Foundation (once the KLF) and Gimpo.
For me it is one of the most audacious statements of recent times. Essentially, two men who had become international popstars, bringing with it all the fame and financial rewards everyone dreams of, rejected the whole idea. The money had not made them happy. It was the product of a period of their lives they wanted to leave behind. So they burnt it.
As an artistic statement, it does everything that art should, in that it inspires debate and causes a strong emotional reaction. Obviously, you might think they're insane. You could argue, as many have, that the money could've been put to good use elsewhere, given to charity or even contributed to your own personal wellbeing. But that misses the point, I think. It was a rejection of money as the solution. We're told all our lives that all we need is just a bit more money. Money will make us happy, keep us secure, make us attractive, keep us young. Money is the answer. But, Bill and Jimi realised that for them, money was the problem. It had a hold over them, as it does over all of us. To burn it was to liberate themselves from it. Really it's a statement about freedom, and i find that particularly inspiring.
I'll burn mine if you burn yours...
Sunday, August 22, 2004
Something For The Weekend
Dumb things I did this weekend:
Stayed in bed late so i had to run to the Tube and nearly missed my train to Downham Market.
Got on the wrong bit of the train.
Put my back out carrying crates of lager.
Drank and ate so much at my friends' BBQ that i was sick as a dog at 3am.
Squeezed toothpaste on my T Shirt.
Inadvertantly wiped one of my favourite minidisks.
Tried to eat M&Ms and use a tube ticket machine at the same time, resulting in much spillage.
Bought Rolling Stone just because Lindsay Lohan was on the cover.
Bought 2 losing scratchcards.
Sat on a banana.
Realised I should've paid my credit card bill on Thursday.
Had an argument with my microwave for beeping at me when i was fully aware that my soup had been sitting there idle for a minute.
Spilt soup on my socks.
Then dropped a half opened Mini Babybel into my soup, so the wax all melted so I had to eat it. I hope it doesn't kill me.
Ate a green banana and got indigestion even though my
smartarse flatmate
good friend Alex told me it would.
Saturday, August 21, 2004
That'll Be The Day
Congratulations to the England Cricket team! This summer they've whitewashed both the West Indies and New Zealand, winning 7 test matches on the trot, an achievement that shouldn't be underestimated. Considering that just a couple of years ago England were at the very bottom of the test match pile makes this an even more startling success. For the first time in recent memory we have a team that not only can bat, field and bowl well, but has the confidence to do it time after time as a unit. We've got a host of batsmen who seem to take it in turns to get tons, fast bowlers AND a spinner who can finish teams off, as well as put on 150 for the last 3 wickets. We look intelligent in the field, and often devastating when put into bat.
Many people have been deriding the failure of British sports men and women this year. This is a genuine success story that should be celebrated. And it could continue if the England team can take this attitude and form to South Africa for the winter, then they've got a genuine chance at putting up some sort of challenge against the Aussies for the Ashes. And believe me, it's been a long time since they've done that...
Tuesday, August 17, 2004
The Beach At Redpoint

Feeling mighty stressed. Long day at work. Not enough sleep the night before. Mountains of washing up. I needed an antidote. Ah, the wonder of Boards Of Canada. The Geogaddi album. Sends shivers down my spine, turning the mountains of washing up into glistening alpine peaks, with cool fresh air flowing over their snowy peaks. I find something unspeakably calming about frozen landscapes. I've only really visited them in the Swiss Alps, and it was one of the best times of my life. I didn't do any skiing or any of that, just walked through the snow, and breathed it all in. For similar reasons, I have a strong desire to escape the frozen tundra of Finland, or further afield to Canada or Alaska. Just the frozen peace and quiet, the clear skies, panoramas of ice cold beauty. Nothingness stretching in all directions, a serene sense of isolation. And at night, the sky lit up with aurora bourealis That'd be nice for a break!

Hmmm. I think I'm gonna switch this off, lie down with my new Peanuts cartoon collection, clamp on some headphones, and drift away. Gnight!


Sunday, August 15, 2004
Watford Weather

Sometime the balmy heat of the city gets too much and you gotta escape to the 'burbs. And so it goes on Saturday, with a lousy hangover and a heavy heart i took the bus back to what i once thought of as the centre of reality: Watford. Anyone who says 'you can't go home again' clearly has an out of date bus timetable. The reassuring thing I suppose is that little changes. The same things about the place make me feel at home, and the same things make me reel in horror. Hey, I know it's easy for me to be all superior about the place now I've moved away... so I will. Only joking. I still secretly love the place as much as i pretend that I hate it.

So I wandered round the shops (including the always great Moist, outside the Harlequin centre, which has loads of great clothes) and then caught the bus home. The W9, same bus I caught to and from school for 7 years, and sat in front of 2 teenagers discussing their garage crew, and who was the best MC, and that they reckoned one of their friends might be related to Dizzee Rascal. I felt pretty good about the place.


Friday, August 13, 2004
Happiness In Magazines
Headline news! Nuts and Zoo's sales figures have shot up, but FHM still rules the roost. Glamour has done equally well, and Heat and Closer are getting big gains. But... well, let's just say these mags don't really do much for me. With the likes of stuck up, pretentious and downright enjoyable style mags The Face and Sleave(nation) biting the dust earlier in the year, the only saving grace has been the revival of Arena, which is now actually pretty good! Still, other than that, there ain't much else out there really...
So it was with some intrepedation that I approached the magazine section of Oxford Street's Borders (way to stick it to the man, Delboy.) But lo! What's this? The latest issue of...
Adbusters (
www.adbusters.org
)
Very nice. Nothing like a bit of lefty anti-corperate tub thumping. It sound obvious, but the most refreshing thing about this mag is that (dur) there aren't any ads in it. So it feels rather thin, but it really is packed from cover to cover. And it's schtick is reassuringly anti-everything, which at this time and place seems a pretty good place to start. Of course there's bits I like, and bits I don't agree with, but more than anything it gives me food for thought. And it's impeccably designed. It looks fantastic, and i felt like the don when i was sat reading it on the tube sat next to a pretty girl, which is pretty much all you can ask for.
Then, on the total flipside...
Modern Toss
(
www.moderntoss.com
)
Oh yes. If you've seen Mr Tourette Master Sign Writer, then you know where Modern Toss is coming from. Puerile, juvenile, offensive and bloody bloody funny. Totally idiotic, should know better humour, but it had me giggling all the way home. But in it's own way as subversive and indicative of a world gone mad as Adbusters. Just a lot funnier.
Oh, and on another note, I also grabbed the new DJ Shadow live album,
In Tune and On Time
. I have to say I was a little apprehensive about buying a live album from a DJ (playing records on a record? Ziperdeedoodaaah!), but i was wrong. The man displays utter genius by mashing up his own tracks from across his work on
Endtroducing
,
Pre-Emptive Strike, The Private Press,
and the UNKLE project with classics from Blackalicious, Handsome Boy Modelling School, Jurassic 5 and Muro. And it's awesome! Songs mutate in and out of each other in unique new combinations in a way that a normal band could never manage on a live LP. And the crowd reaction makes you envy those who got to experience it live, which is surely what it's all about. Nice one, Josh!
Thursday, August 12, 2004
Every Breath You Take
The traditional stereotypical view of the football fan isn't that appealing. Loutish idiots without a braincell or emotion to share between them. But in many cases the opposite is true. Football fandom is born out of intense loyalty to a club, it's players and it's manager. Betrayal by any of these is almost unforgivable, surely the greatest of which in recent times has to be Wimbledon moving up the M1 to Milton Keynes.
But on a personal level, as an Arsenal fan, I've followed every media snippet on the supposed transfer of Patrick Vieira to Real Madrid like a jealous husband checking up on the movements of a supposedely unfaithful partner. The
latest reports from BBC Sport
suggest that Real have cooled on the deal after Arsenal wouldn't budge on the asking price. This of course fills me with optimism, but leaves a distinctly unpleasant taste in the mouth. As if Patrick flirted with Real and only didn't go with them because they changed their mind.
Of course, this is a far from unique experience. Newcastle fans must've been livid at the news of Shearer approaching Celtic (or vice versa). And there have been countless examples of players and managers sacrificing club loyalty for financial gain or personal success, and, for that matter, clubs screwing over faithful players and coaches for the very same reasons. At the end of the day, the only true believers are often the fans, who just want the best for their team. Which is anything but unemotional, but a display of genuine loyalty and community spirit.
Tuesday, August 10, 2004
Triple Trouble
Derek 3 - Vending Machine 0
Yes, after a nightmare journey into work, miserable weather and me being in a foul mood, finally something goes my way. On a trip down to our work basement, i pass the vending machine in the corridor, and feel tempted by a pack of Tangy Cheese Doritos. I put in the money, and key the number in. Whirr...thunk. The packet hangs on the precipice, but doesn't fall. DAMN IT. But hang on, this is one smart vending machine. It acknowleged that the food hadn't dropped, so it gave me another go. I went for the Doritos again. The packet behind the one that was jammed then forced the one i wanted up against the glass. It gave me another go. I went for it again. The third packet further jammed the other two packets. One final go. Doritos. With the final twist of the dispenser, all 3 packets dropped! Victory! For the meagre price of 45p, I'd picked up 3 packets of Tangy Cheese Doritos! I had officially stuck it to the man.
Sunday, August 08, 2004
Help
The classic Help album, made for the Warchild charity in a week back in the heady days of 1995, is getting an online rerelease. Head to
Warchildmusic.com
to download the tracks for 99p each or the full shebang with artwork for £3.50, which is a bloody bargain if you ask me. Loads of great stuff from the likes of Radiohead, Portishead, Blur, Oasis
whentheyweregood
, Orbital, Massive Attack and even the mighty KLF (as the One World Orchestra.)
There'll be more tracks going up over the coming months, and, of course, it's all fer charidee, so you can feel good about yourself. Certainly a lot more fulfilling than anything sponsored by certain brown soft drinks companies.
We're The Monkees
Ginger monkeys! What more could you possibly want? London Zoo are even letting Redhead's in free before their fur turns black. Check out the full story
here at BBC News Online
. Let's all go and see them!
Tuesday, August 03, 2004
Summer
Charlotte Hatherley is great. She is in Ash, she is cool and she is purdy. She has also broken off on her own (temporarily, Ash fans!) to release her very own album,
Grey To Fade,
from which her lovely new single 'Summer' is taken. But, not only that, with the kind of generosity of spirit that would shame the good samaritan, she's offered up a free download of the brilliantly titled 'Kim Wilde' on her
website
. Go and get it now, you fool.
Monday, August 02, 2004
Physical
Earlier this year I went on a bit of a fitness trip. I went down the gym, started eating more healthily and actually lost quite a bit of weight. But then, disaster! I trapped my foot on the Warren St tube escalator. And it hurt. A lot. I had to get it X Rayed, and have several check ups. Thankfully it wasn't broken, but I had damaged the tendons, so i was ordered to lay off it for a good month. Funnily enough, thus endeth the fitness fad. I replaced trips the the gym with trips to Jim's Newsagent (well, not Jim's, that just sounds good. You get the picture.) But now I have decided it's time to pick up the baton once more and reembark on my journey to fitsville, all thanks to the genius that is my good friend Toby (aforementioned). Posted below is our full messenger conversation so you can witness his motivational technique in action:
Del
says:
hehehe, i'm such a fat ****.
Toby
says:
you say that but i ate 6 doughnuts in 1 hour yesterday
Del
says:
yeah, but you're a fucking skinny git.
Del
says:
(sorry i didn'tmean to sound that aggressive!)
Toby
says:
well its true, i have an olympic metabolism
Del
says:
i am a bit fat lazy arse. i lost loads of weight, and i'm slowly putting it on again. i am a fool.
if i were sensible, I'd go to bed now, and go to the gym in the morning, but I'm not so i won't
i need motivation.
Toby
says:
yep well im going to do some physio shit in the morning charmone so that counts as the exercisee motherfucker
Del
says:
bastard. hmm.
i guess i could do it again. youknow what it was: trapping my foot in the escalator. it wiped out exercise for a month, and i never recovered
Del
says:
RIGHT. from now on I am turning over a new leaf. you read it here first. i am giving up shit food and getting back on the exercise thing. i will not rest (except for sleep, let's be reasonable) until I am back on tip top form. for good health is the gateway to true contentment.
Toby
says:
ok you said it sucker
Del
says:
badass. everyone must support me in this venture. anyone who sees me heading towards a newsagent has to physically restrain me. I am kicking the booze (except for unique circumstances like weddings, where it would just be silly) and I pledge that I will go to bed early and rise in good time to complete a session at the gym and arrive at work on time(ish)
Toby
says:
take up smoking if you just wanna lose weight, although im not a doctor so it might also have downsides
Del
says:
hmmm. interesting
Toby
says:
yeah go for it (always read the label and consult your GP is symtoms persist tho)
Del
says:
ok.... so.... getting back on the old fitness wagon. better eat all this shit food in the fridge...
Toby
says:
yeah cos if you dont you will have to eat it later when you start your fitness thing
Del
says:
yeah. and that would be bad.
So that's decided. I'm going to do it properly this time, and I'll try and avoid trapping my feet in heavy machinery in the meantime. Any advice or words of encouragement are appreciated!
Blood On The Dancefloor
Apparently dance is dead.
Bollocks
says my friend Toby.
Sunday, August 01, 2004
London Calling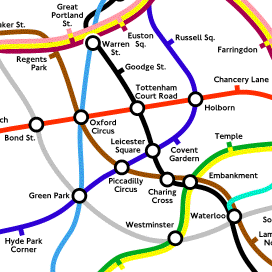 London is the second most expensive city in the world (just behind Tokyo.) London is dirty, polluted and overcrowded. People in London are rude and unpleasant. The transport is a nightmare. It's full of fakes, phoneys, suits, tourists, rahs, criminals and arseholes. Such is the accepted wisdom. And whilst I agree that a lot of the above is true, I still can't resist the place. It's vibrancy, the excitement and energy, it's unique.
I think my love of London began as I was growing up. My hometown of Bushey in Hertfordshire is just on the edge of London. It's as if I spent my whole childhood and adolescence with my face pressed up against the glass, watching the excitement from the outside, entranced by what I saw going on. I used to love travelling on the tube and visiting famous landmarks, but my parents had had quite enough of their own time in London to consider dragging two screaming kids around it, so these were rare treats. When the whole Britpop thing kicked off, I was only 13-14, so not really old enough to go and enjoy the treats of Camden. Obviously, i dreamed of sitting in the Good Mixer, with a bass guitar slung over my shoulder, and some record company exec/idiot signing me on the spot. (And let's face it, had i been 5 years older it would've been a distinct possibility.)
But no, I had to sit out Britpop, content with the records and reviews in the music press. I spent my uni years at Nottingham (Rock City) so i made up for it there, but I always knew I'd end up in London. And here i am, living the dream. I'm living in North London (my favourite bit), working in W1. And I just love it. I honestly wouldn't want to live and work anywhere else. Sure, things could be better and cheaper, but nothing compares to the excitement of Camden market, or walking through Soho at 4am, or seeing a flick in Leicester Square, or record shopping on Covent Garden, and so on.
That said, I would sincerely like to escape it every now and then. I have holiday booked in a month's time, and I cannot wait!! I might well visit some of my other adopted cities; Nottingham and Bristol perhaps. Or make it out into the countryside and look at cows. Or maybe dip my toes in the Atlantic down Cornwall way. Sometimes I fantasise about living somewhere peaceful and quiet away from the hustle and bustle, but i know within about a week I'd be bored to death, and I'd arrive back in London, on the dirty streets, avoiding violent beggars, even more violent commuters and clueless tourists with a gay abandon.
All opinions expressed within the pages and comments of this blog are solely those of the author, and not of his employers or associates. If you have any complaints, corrections or queries regarding any of the material contained within, please contact the author via
email
. Thanks for reading!