Monday, September 27, 2004
This Town Ain't Big Enough For The Both Of Us
I've been saying it for years, but now it's official! Luton is the crappest town in Britain. Yes, that's right. The sworn enemy of my old neighbourhood of Watford has been condemned as the worst place to live in the entire country, as voted for by people who live there! Now, far be it from me to gloat, but it does seem to justify Watford's long standing distaste for all things Luton. There is of course the obvious rivalry between the local football sides (except for the fact that Luton Town are currently a division below Watford FC...), but it runs deeper than that. In Watford, a Lutonian was someone who was not to be trusted. Indeed when it was revealed that a teacher at our school was a Luton Town fan, she was never taken seriously again (many would argue that she was never taken seriously in the first place, but that's another matter entirely.)
But at no time has the rivalry betwixt these two sworn enemies been more intense than on the Morecambe and Wise Christmas Special, 1977. An occasion so momentous that 27 million viewers tuned in, and rumour has it the Queen delayed Christmas dinner so as not to miss a second. For it was then that two titans clashed. Yes, Eric Morecambe, a Director at Luton Town, introduced a certain Sir Elton John, Chairman of Watford FC, who had wrapped himself in a red, yellow and black Watford scarf. Now that's what I call a result.
Alas these were the champagne glory days of two towns that have now seen better days. But let it be very very clear: the North Stand at Vicarage Road certainly won't let Luton get away with this one.
Sunday, September 26, 2004
Rhapsody In Blue
So I watched Woody Allen's
Manhattan.
So now i wanna go live in New Yoik. And have George Gershwin soundtrack my adventures. And see it all in black and white. In 1979. Oh well.
It's hard to imagine a better time to have been in New York. Aside from the wonderful vistas presented in the movie at a stage when it was in a transition from then to now, musically (what else?) it was as vibrant as it's ever been. Hip hop, punk and disco all blossoming. CBGB's, Studio 54 and block parties all at their peak. But I was sadly in utero for the vast majority of 1979, which was something of a hindrance. It's easy to blame your parents for your own problems, but i think this is a pretty clearcut case of parental negligence.
Saturday, September 25, 2004
The Streets - All Got Our Runnins
Part 6 (I think) in an occasional series of rediscovered musical gems.
Left off the final pressing of The Streets' brilliant
Original Pirate Material
LP, I luckily have this on the original promo (makes smug muso face). It was replaced by 'Don't Mug Yourself', so you didn't do too badly out of it. I think it was rereleased online or maybe as a B Side. Anyway, the main reason I've chosen it is cos I'm skint, and this song is about being skint and very accurate (apart from the drugs part, not really my thing. Mum.) I could go on about what a great poet Mikey Skinner is and all that pseudo intellectual claptrap, but the fact is it's just wicked UK Hip Hop. Simple as that. I've stuck the words here in case you can't find the track, cos they're dead good, innit? (I nicked them from another site, hence no capitals and questionable punctuation, but I can't be bothered rewriting them. Enjoy!)
again I step out my yard
head swings round, clocks my landlord
start chippin' up the road cos I owe him three-weeks dough
the ship's sinkin', tele's on the blink
'n' in the pub it's one beer to last all evening
later on chips for feedin'
when the quids are down
try sneakin' a bottle of brandy round bouncers into the Ministry Of Sound
scored, Moffat, back indoors with a profit
'cos they do say havin' no money forces one to make the right choices on life each day
if you can't pay you can't play
success hides a multitude of sins
but I ain't successful and my piggy-bank's still in the bin,
been there since I was a kid
goin' round in circles, not being careful but say;
"I get paid on Friday, can't wait to live life my way"
'cos on the streets I'm just a geezer
I gotta make ends meet, yeah?
gotta do what I need to
shit, we all got our runnin's now
on the streets I'm just a geezer
gotta make ends meet, yeah?
gotta do what I need to
shit, we all got our runnin's now
Brut pocket I'm back in the Burassic seat again
after spending sixty pound last week on beers with friends
brought it all on myself see, granted
now I'm scorin' draw for everyone to get my next spliff sorted
hang round mum's house to get smothered
got no tins in the cupboard this week
hold on to your seat 'cos it's all gone a bit Pete
live for the moment said he *wrong*
downin' beers out of my tree, now the moment's passed the cash is a distant memory
you know things are bleak when you're tellin' the birds you asked out last week that things
are busy
when really you've got no dough in the piggy
two days after pay day's clocked
and it's back at The Black Dog stuffin' them socks into pool table pockets
*Chorus*
I'm skint, got no moolah
need to get some colour in my cheeks says mum
that'll be my English inner city tan
I'm skinny like a woman, need to get some punan' through the door
*Please Sir, can I have some more?*
oi.
oi, lend me a tenner so I can go to the chip-shop,
twenty-four garage and then for a quick top,
this time opting for the reassuringly cheap option
when the quids are down,
my Schott hoodie's my ball gown
my essential accessory is my bad day frown 'cos,
life in the third-class carriage can be evil
when your only ticket to freedom is a permit to travel
so, Uncle Shiner, you best go get the spade and dig me a grave
'cos I can't pay the rent but I got ' hundred-and-nine pound pair o' trainers on
*Chorus*
La la la
and then this geezer turned round to me and said
"What are you doing, you twat"
and I was like
"What the fuck, is this, what are you saying, you div?"
oi… that's it.
Tuesday, September 21, 2004
Brian Clough RIP
There have been many fine tributes to former Nottingham Forest manager Brian Clough today, but I just wanted to jot a few lines about what he meant to me. He was simply the greatest English manager of all time, but more than that, he was a unique character. A man who said what he thought, whatever the circumstances. He not only created hugely entertaining and successful football teams, but he was a hilarious individual. In the current footballing climate of agents, silly money and general poncing about, a comment from Cloughie would put it all in perspective. It speaks volumes that Arsenal's record run only
really
counted when Old Big 'ead had (reluctantly) given his seal of approval.
It's a cliche, but he really was a one off. Someone my dad and I could laugh with together whenever he came on the telly. He took the piss, and he didn't give a shit what people thought, but he cared about football more than any man alive. He will be missed.
Monday, September 20, 2004
I Wanna Dance With Numbers
Ok, so we all know the rules, don't we? To find out the youngest person you're allowed to date, you divide by two, and add seven. So for me, I'm 24. Divide by 2 is 12, plus 7 is 19. Which is about right. We can write this algebraically as follows:
x=(y/2)+7
where
y
is your age, and
x
is the age of the person you can date.
Now, you can work out the oldest person you can date by flipping that all around like this:
2(y-7)=x
where
y
is your age and
x
is the age of the oldest person you can date.
In my case it's 34. You see, maths can be fun.
Ok, now we need a good example.
My good friend
Toby
informs me that he has taken a shine to Marisa Tomei.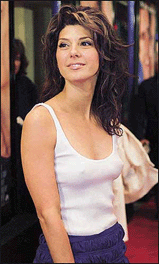 But why?
TØßY says:
shes a NY jew, perfect and her dad was a lawyer
Del says:
and she won an oscar!
TØßY says:
and shes part italian
So that clears that up. Now, Toby is 24, but, disaster! Marisa is 39! This puts her out of his age bracket. Instantly sensing that this has sent my good friend into a spiralling circle of despair and self destruction, I once again turn to my good buddy Maths to save the day.
Here's what we know. For the sake of chromosonic congruency, we'll say Toby=
y
and Marisa=
x
.
Now, the distance between them age-wise will always stay the same: 15 years.
So:
y=x-15
And we already know that:
y=(x/2)+7
So now we can equate the y's and say:
x-15=(x/2)+7
So:
x-22=x/2
2x-44=x
x-44=0
Therefore:
x=44
Eureka! So, when Marisa is 44, Toby can officially date her. By then Toby will be 29. What success! Cupid had better get twanging his bow in 5 years time, and Toby has plenty of time to ponder over what to do with Marisa's Oscar.
Sunday, September 19, 2004
(Fat) Kids In America
I was going to write some kind of heated political diatribe about the whole foxhunting protest and the continuing lack of WMD. But that's far too much bother for a Sunday evening, so it's time for another great Del theory:
Fat, beardy, American dudes who wear glasses are cool.
I know what you're thinking. None of those things can just gift someone coolness. We certainly shouldn't be encouraging obesity, loads of people wear glasses, lots of Americans are annoying, and facial hair is the last refuge of the scoundrel! (And I can read your mind here as well: "But Del, your flatmate and good friend Alex has a beard." Aha, yes he does. So I stand by my original comment. He never reads this anyway. Thinks it's far too self important. Well, I'll show him.)
Please, let me explain the reasoning behind my theory with a few test subjects who fulfil my new rule:
Kevin Smith
American:
Yes, New Jersey.
Beard:
Yes, look at his face!
Glasses:
Yes, off screen.
Fat:
Bless him, yes. And he's a bit sensitive about, so be nice.
But "Cool"?
Well, he's the man behind a fantastic set of films including 'Clerks', 'Mallrats', 'Chasing Amy' and 'Dogma' as well as playing the wise and inspirational Silent Bob in all those movies and more. He's also obsessed with Star Wars (more to come) and comics. That makes him cool in my book. The theory holds.
Michael Moore
American:
Check that! Flint, Michigan, of course.
Beard:
Occasionally absent (see the 'Bowling for Columbine' cover) but not often.
Glasses:
Uh-huh.
Fat:
Yes, and he happily acknowledges it.
But "Cool"?
Now a somewhat controversial and partisan figure, the one thing that cuts through any political stance is that fact that Moore is always laugh out loud funny both on screen and on paper. Ok, so he may have had a few diva moments of late, but with the CIA on your back, you can be forgiven the odd strop. And there ain't nothing cooler than sticking it to the man. Another tick.
Bill Bryson
American:
Yes indeedy, De Moines, Iowa.
Beard:
Present and correct.
Glasses:
Ubiquitous.
Fat:
Yes, despite all that walking. He obviously eats well.
But "Cool"?
At risk from being almost too affable and pleasant, Bryson just about makes it through the cool gate intact. He's very much the toast of the middle class read-one-book-a-year set, but that's not his fault.
Mother Tongue
more or less wrote my English Language GCSE paper, and
Notes from a small island
is hilarious in places. Go on then, you scamp. Cool are you.
Quincy Jones
American:
Hell yeah, Chicago, baby.
Beard:
Well, sometimes just does with a tache, but the beard is there often enough to count.
Glasses:
Yes, and often looking ice cold in shades.
Fat:
Hey, he's sat behind a mixing desk all day, give the guy a break!
But "Cool"?
Bit of an open and shut case this one really. Where do we start? Made Michael Jackson a star, soundtracked everything from 'Sanford and Son' to 'The Italian Job' to 'Kill Bill', and produced 'The Fresh Prince' giving us Uncle Philip (another contender for this theory). Oh, and Will Smith. Well, noone's perfect. Arf. Come on in, Quince. Can I call you Quince? Ok, sure, you're the boss Mr. Jones.
George Lucas
American:
Modesto, California. Seriously!
Beard:
Now greying, but it's been with us since Episode IV
Glasses:
You bet, and doesn't he look dashing in them?
Fat:
Hardly Jabba proportions, but he obviously clears his plate.
But "Cool"?
The guy wrote 'Star Wars'. What more do you want?
Bill Hicks
American:
Little Rock, Arkansas, y'all.
Beard:
Well, not all the time, but as you can see he wasn't averse to sporting one.
Glasses:
Yes siree.
Fat:
Living life on the road took it's toll. This was America, after all...
But "Cool"?
He never sold out, he was brutally honest and brilliantly funny. A genius. Cooler than you.
Matt Groening
American:
Yes, but Portland, Oregon, not Springfield, Kentucky.
Beard:
You can almost reach out and stroke it.
Glasses:
"You mean it's not me noggin it's me peepers?" Er, yes.
Fat:
He invented Homer Simpson. What do you think?
But "Cool"?
Lucas got on here, and he only came up with Star Wars. And he's done his best to ruin that for the past 20 years. In that time Matt's come up with 'Life In Hell' (one of the best cartoon strips ever), 'Futurama' (the best SciFi comedy ever) and 'The Simpsons', which is the greatest programme ever in the history of television, and arguably mankind's greatest achievement. I think that's a big fat Homer sized 'yes'.
I think I've stated my case pretty well there. I mean, there are always exceptions to any rule, and you have to feel for those who so nearly fulfil the criteria but just miss out.
Like
Bill Oddie
.
American:
Nope. Born in Rochdale, Lancashire.
Ah, so near but yet so far. So, what do you think of my theory? Have i made any glaring omissions? Does spending this much time on something so pointless suggest some sort of personality disorder? Please, for God's sake, let me know.
Friday, September 17, 2004
Every Breath You Take
Let's get one thing straight: I do not approve of Sting or the Police. Sting is a smug git, and the majority of the Police's output is profoundly irritating. His work with P Diddy and Craig David should ensure he has his own layer of hell personally devoted to him. But whichever you look at it, 'Every Breath You Take' is still a marvellous record. Which is very annoying.
On the plus side, my new Adam and Joe DVD is even better. Inspirational telly from two silly sausages that is as funny as it was original and innovative at the time. I've only watched the highlights of the first series so far, and that already had me choking on my curry with laughter. Whether it be reenacting Trainspotting and Showgirls with cuddly toys, recasting Chewbacca as the host of You've Been Framed or going into a shop and eating the 20% extra free without paying, it shows that it's ideas and not budgets that are what telly is all about. Wow. How very profound. And let's face it, everyone wanted a bedroom like theirs!
Bloody students.
Thursday, September 16, 2004
Call On Me
Already an instant classic, Eric Prydz - 'Call On Me' looks to be heading straight to No.1 (well according to Popbitch, anyway, so it
must
be true.) And quite right too. This record follows the brilliant thought process of the genius of Thomas Bangalter of Daft Punk fame and his mate DJ Falcon, so much so that people originally though 'Call On Me' was their work! The theory is brilliant. Distill pop down to it's bare bones: grab the chorus, loop it for 10 minutes, whack in a pounding beat, hypnotic synths, compress it to buggery, release it and make Del jump up and down like a loony until it finishes and i start it again..
So simple is the theory that Big Bad Baz, one of the men behind Retarded Funk's original version of the Prydz track, has applied it to another cracking record: Fountains Of Wayne's rather marvellous 'Stacy's Mom'. You can find a link to it
here
. It's quite brilliant.
Looking for other things that use the same loop over and over?
Linus Loves - 'The Terrace' (Breastfed)
[Not the Data Records vocal version!!]
Together - 'Together' (Roule)
[My record of the year 2000]

Together - 'So Much Love To Give' (Roule)
[My record of the year 2002]
The Paradise - 'In Love With You' (Vulture)
[My record of the year 2003]
Together is DJ Falcon and Thomas Bangalter. The Paradise is Alan Braxe and Ronald Lauverjon. Thomas Bangalter and Alan Braxe also made Stardust - 'Music Sounds Better With You'. My record of 1998. All hail.

Sunday, September 12, 2004
Popscene
Ah, the state of pop. The common concensus is that pop music today is far inferior what it was back in the old days, where the Beatles and Stones ruled supreme, a pint of best was 20p and you could travel from John O Groats to Lands End in 25 minutes for the price of a packet of Werther's Originals. Cobblers, of course. The truth is that there are more great records being released today than ever before. The only trouble is that there are more rubbish ones being released as well.
I mean, check out the New Release list from
Radio 1 Online
...
Singles:
Dido - 'Sand In My Shoes'
Joss Stone - 'You Had Me'
Eric Prydz - 'Call On Me'
Razorlight - 'Vice'
Fatboy Slim - 'Slash Dot Dash'
Girls Aloud - 'Love Machine'
Beastie Boys - 'Triple Trouble'
Green Day - 'American Idiot'
Mark B - 'Move Now'
Annie - 'Chewing Gum'
Bryan Adams - 'Open Road'
My Chemical Romance - 'I'm Not OK'
Bhangra Knights - 'Fascinating Rhythm'
Fifth Avenue - 'Spanish Eyes'
13 Senses - 'Into The Fire'
Detroit Cobras - 'Cha Cha Twist'
NMS - 'Don't Say It'Candice - 'Hello'
Cassidy - 'Get No Better'
The Corrs - 'Angel'
Albums:
Goldie Lookin' Chain - ' Greatest Hits'
Daniel O'Donnell - 'Live Laugh Love Yest'
Darren Hayes - 'Tension And The Spark'
Ed Harcourt - 'Strangers'
Embrace - 'Out Of Nothing'
Ian Brown - 'Solarized'
Nelly - 'Suit'/'Sweat'
The Thrills - 'Let's Bottle Bohemia'
Paul Weller - 'Studio 150'
Bowling For Soup - 'Hangover You Don't Deserve'
Proud Mary - 'Love and Light'
Various - 'Keep It Solid Steel Vol. 1 - Mr Scruff'
Various - 'Under The Influence: The Libertines'
Downloads:
KD Lang - 'Helpless'
Candice - 'Hello'
Beastie Boys - 'Triple Trouble'
I don't need to tell you that there's a lot of rubbish in there, but also a few gems. Eric Prydz - 'Call On Me' I've been raving about for nearly 6 months, after wrongly assuming it was done by the lovely Thomas Bangalter from Daft Punk and his pal DJ Falcon. But it follows the same pattern. Loop a sample with about 3 words for 10 minutes, add synths, compress, repeat. Magic. The Beasties, Annie and Green Day with i think their best single ever. Hell, even Girls Aloud deserve a look in. There is still pop that you can forgive the kids for listening to. You may not like McFly or Busted, but they're essentially updated versions of The Monkees or the Bay City Rollers, singing upbeat pop songs without patronising the kids. Anything's better than Westlife, after all. I'm undecided about getting the Goldie Lookin Chain album, but something tells me I'll get it and enjoy it for 3 months, forget about it, and come back to it in a couple of years and giggle myself silly. And isn't that what pop's really all about? I dunno.
Thursday, September 09, 2004
Come Back To What You Know
Ah, so here we are again. Back from my holidays. Grange-Over-Sands in Cumbria, Weston-Super-Mare and Bristol. Not exactly exotic, but they certainly did the trick. The cabin fever that was gripping me is long gone, and my wallet is a lot lighter. Cheers to Lynn and Dixie (and Good luck!), Wenna and Toby respectively for putting up with me. Weather everywhere was fantastic, Cumbria was astonishingly pretty, Weston was mediteranean hot and Bristol has to be one of the best looking cities in the country as far as the beautiful people go. Shame about the GWR balloon hovering ominously over the horizon, like a provincial Death Star. Just kidding...
My wonderful friend Chloe hooked us up with tickets to see Jurassic 5 with appearances from Roots Manuva and Rakaa of Dilated Peoples. And I unearthed some old classics in my second hand rummaging, and plenty of fresh stuff in my fave record shops. Must just give a quick RIP notice for Imperial Records in Bristol though. A favourite haunt of mine on my various jaunts down the west country, and the only place I've seen an original copy of the Jams - 1987 (What the Fuck's Going On), which, at 80 quid, I foolishly passed up on. You live and learn. It'll be missed.
Of course, floating round my head are the obligatory holiday tunes that have had me humming in the sunshine (and occasional shower.) You want to know what they are? Will you forgive me if they're a bit poppy? Ok? Cool.
JoJo - Leave (Get Out)
- A great slice of C21st Pop. Yeah yeah, I know she's only 13. So what.
Charlotte Hatherley - Summer
- Have I banged on about her enough yet? No.
Dilated Peoples - This Way
- Magical concious hip hop with Kanye West and a stunning video
Natasha Beddingfield - These Words
- GET OUT OF MY HEAD.
Giorgio Moroder And Phil Oakey - Together In Electric Dreams
- Oh yes yes yes.
Girls Aloud - Love Machine
- It's evil, but what are you gonna do?
Embrace - Gravity
- Surprisingly good.
Taffy - I Love My Radio
- Thanks Jon. And I do.
Mouse On Mars - Download Sofist
- Cheers Steve!
Har Mar Superstar - DUI
- Go man! You give us all hope.
Melissa Auf Der Maur - Taste You
- Liss, you spoke French!
Eric Prydz - Call On Me
- I'm same guy I used to be.
Joy Division - Atmosphere
- Well, something needs to balance that lot out.
George W Bush - Sunday Bloody Sunday
- Check it out.
Friday, September 03, 2004
War Child
Not sure about this whole downloading online malarky? Well you could do a lot worse than check out
Big Noise Music
, Oxfam's online download site, where for every £1 you spend, 10p goes straight to Oxfam, which is a hell of a lot better than lining the pockets of Coke, Napster, Apple, et al (big love to them though. Really.)
Also, as
BBC News
reports, Oxfam is releasing an album to raise money for the Sudan Crisis. The likes of REM, Badly Drawn Boy and Ash are present and correct on the 14 track disc, and at £7.99 with 5 quid going straight to charity, you'd have to be some sort of evil tight fisted bastard not to go and get it. Less than a round of drinks (or just 1 drink in London).
Thursday, September 02, 2004
Chocolate Wings
Wanna buy Noel's Rolls Royce, as presented to him by Alan McGee? Why not
indeed
.
Although quite how they intend to "post" it worldwide remains to be seen.
"SKINNER!"
Wednesday, September 01, 2004
Do You Remember The First Time?
Uh-oh. Nostalgia alert!
Listening to Pulp too much yesterday has obviously had an effect. I've dragged out the very first CD I ever bought, on the same day I bought a Discman to play it on, which at a good 100 quid was a big commitment for a 15 year old. It signalled the start of my genuine music obsession. The album was a compilation,
Shine,
released April 27, 1995
.
For any indie kid born late seventies, early 80's, this tracklisting pretty much sums it all up:
1. Parklife - Blur
2. Cigarettes and alcohol - Oasis
3. Regret - New Order
4. Zombie - Cranberries
5. Animal nitrate - Suede
6. Connection - Elastica
7. Do you remember the first time - Pulp
8. So let me go far - Dodgy
9. Speakeasy - Shed Seven
10. Welcome to paradise - Green Day
11. How soon is now - Smiths
12. Sit down - James
13. Getting away with it - Electronic
14. Size of a cow - Wonder Stuff
15. All together now - Farm
16. Dragging me down - Inspiral Carpets
17. Weirdo - Charlatans
18. International bright young thing - Jesus Jones
19. Feel the pain - Dinosaur Jr.
20. Shine on - House Of Love
It's not an exagerration to say that some of these songs changed my life (it's also fair to say that Shed Seven didn't, but nothing's perfect). Of course, at the time, I didn't know that this would be only Volume 1 of a huge series that, funnily enough, seemed to drop off in quality pretty sharply, but nonetheless this is an awesome summary of the first songs to really have an effect on me. Of course, this was only a start. Although I've followed and delved deeper into almost all of the artists on this album, I've discovered many more great bands and branches of music (wow! Black people make music too!), but this will always be the first CD I ever bought.
Right, let's get this nostalgia crap out of my system now. Here are some more "firsts" from my life (as my memory serves me!)
First single I really remember liking properly:
Queen - Radio Ga Ga
First album i listened to over and over:
The Beatles - Sgt Pepper's Lonely Hearts Club Band
First video I distinctly remember:
Aha - Take On Me
First single I bought with my own money:
Mr Blobby - Mr Blobby (at 13, I should've known better, but i only bought it to keep Take That off Christmas No.1. And it worked. I regret nothing.)
First
Now
Album Bought:
Now 20 from 1991 (i had Now 5 on vinyl, but that was from a car boot sale)
First Gig:
The Bluetones at Watford Colloseum in 1995 (I think). They were alright.
First (new!) record I bought:
DJ Shadow - What Does Your Soul Look Like? Peshay and DJ Die Remixes (I had it for about 2 years before i got round to buying a record deck to play it on)
That'll do I think. As Cyril Connolly once said, 'The past is the only dead thing that smells sweet.' What about pot pourri, though? That's just dead flowers, innit? Nice one, Cyril.
All opinions expressed within the pages and comments of this blog are solely those of the author, and not of his employers or associates. If you have any complaints, corrections or queries regarding any of the material contained within, please contact the author via
email
. Thanks for reading!