Monday, November 29, 2004
Today
After the last miserable git style post, time for some reasons to be cheerful!
New Lemon Jelly!

'Stay with you', a splendid thing indeed, but, what's this? The B Sides are even better! 'Rolled' samples Bad Company's 'Feel Like Making Love' and 'The Fruity Track' samples Presidents Of The United States' 'Peaches', and somehow makes them both gloriously wonderful! (And believe me, my thoughts on the PUSA are usually unpublishable.)
New T Shirts!
Keeping with the Jelly for a moment, I picked up some rather lovely T Shirts from the
Airside Shop
. A side project of Lemon Jelly's Fred, with his cool design mates, they make many pretty things. I went a bit loopy and ordered 4 of their tees, and got 5! The generous souls. I also got some excellent stuff from the good people at
Headstrong
, including an ace Bill Hicks T Shirt. They describe their wares rather worryingly as "Urban Clothing", but don't worry it's all lovely. I recommend both, but beware that we might end up wearing the same stuff. Which would be a little disconcerting.
Old Prodigy!
Yeah! XL Records have rereleased 'Charly', the Prodge's first serious single. Except it's not even slightly serious. We all know the wonderous silliness of the public information sampling A Side, but B Sides 'Pandemonium' and the Original Mix of 'Your Love' are worth the purchase alone. Much old skool synth and piano action that make you wish it was 1991 all over again (just with better clothing) . All in all, well worth playing loudly to annoy your neighbours/parents/flat mates. Heheheheh...
Old Ren! And Stimpy!
For no other reason than I watched the 'Space Madness' episode today and it made me laugh just as much as it did when I first saw it on TV. Which was A LOT. What I'd do for an "Erase History" Button...
New Button Down Disco!
Everyone knows that Disco is the ultimate distillation of dancefloor ingredients. Hence any night worth its salt should take heed.
Button Down Disco
have.
I went to their great night in London on Saturday with some close personal friends, and their beguiling mix of Indie, Reggae, Funk, Electro, Weird Shit and, of course, Disco had us dancing till the early hours. And they gave us Chocolate Buttons and Badges which more or less sealed the deal. Come along next time! Sign on to their mailing list for an invite. S'free! Bargain.
Old Vietnam!
For some reason, I'm in a 'Nam kinda mood, probably after watching
Apolcalypse Now Redux
last Saturday (in fact, for almost ALL of last Saturday). Great stuff. Now ready to line up
Full Metal Jacket, Deer Hunter
and
Platoon
for some genuinely cheerful and uplifting times. Nothing like a good war movie with strokey chin underlying themes so that you can pretend to be intellectual whilst enjoying the mindless violence. Paydirt!
Old and New Kylie!
Now, you must know by now I like Kylie. Well, I do. She's great. The music's great, the image is great, her history is great, and her celebrity, which is almost entirely separate from her personal existence, is pure greatness and a staunch lesson to other celeb whores who bare their souls to distract from their lack of talent (Robbie, Geri, hello.)
Anyway,
Ultimate Kylie CD
and
Ultimate Kylie DVD
are reasons to make anyone cheerful, as is the wonderful new single 'I Need You'. Also check out her
website
for some ace wallpapers as previewed above, which cover her whole career in pics from sweet to naughty, poptastic to indie and back to poptastic again.
Oldish Sunday Night Indie Misery Tracks!
Just to prove I've not overdosed on Prozac. I spent a night back in the ol' home town of Watford on Sunday night. I had a dentist check up on Monday morning (clean bill of health, zing!) so i made sense to stay over. What with it being miserable weather and TV being bereft of any excitement (bring on TOTP!), i turned to my trusty portable music player thingy to soundtrack the gloom. And soundtrack it it most surely did! Why, if it isn't time for another patented Del playlist of classic tracks! This time in the miserable-but-also-strangely-uplifting-indie genre. Take it away...
Blur - The Universal
Elbow - Fugitive Motel
Manic Street Preachers - A Design For Life
The House of Love - Shine On
Mogwai - Tracy
Finch - Letters To You
Sparklehorse - Hammering The Cramps
Travis - Writing To Reach You
Foo Fighters - Walking After You
Snow Patrol - Chocolate
Nirvana - All Apologies
REM - The great beyond
The Smiths - How Soon Is Now?
Explosions In The Sky - Your Hand In Mine
Mercury Rev - Holes
Doves - Caught By the River
Radiohead - Fake Plastic Trees
The Smashing Pumpkins - Today
The Killers - Mr Brightside
Idlewild - American English
Dinosaur Jr. - Feel the Pain
Feeder - Suffocate
Joy Division - Atmosphere
Spiritualized Electric Mainline - Spread Your Wings
Blur - Resigned
Johnny Cash - Hurt
Most not entirely unexpected, but I was in a self indulgent and uncool mood, so sod it. Happy days! See you soon!
Thursday, November 25, 2004
Black Christmas
My Dad was right. Now, it's not often I'll say that, but he was right from
Day One
. My Dad loves Christmas. He's a big kid on the day. He presides over the whole thing like a proud Master of Ceremonies, carving the Turkey, dishing out the presents and selecting the prime cuts of Chrimbo TV through his wand of wonder, the TV remote.
But
, you won't see any decorations before Christmas Eve. And they'll be down again by Twelveth Night. Christmas is for Christmas. Before that, adverts are shouted at, neighbours' outlandish displays mocked and music in shops treated with the contempt it deserves. When I was young I thought he was a miserable Scrooge, but as I approach my 24th Christmas, I realise he's spot on. Christmas is not December. That's Advent. I mean, the whole thing drives me crazy. Fake snow appearing in shop windows in October, Slade and Wizard offending my ears throughout November, overzealous idiots raving about the whole occasion weeks beforehand. Leave me alone!
I understand shops and adverts harking on about the whole affair for months. We live in a capitalist society. That's a whole other battle. But I am confused by normally sane human beings who seem to drop out of normal society and transform into braindead idiots at the first sight of the Seasonal Aisle in Tesco.
I've got more reason to look forward to the whole shebang with my birthday falling just 2 days after the 25th, but you don't see me skipping around like a cretin in a Santa hat in November. Pass the shotgun, ma.
Wednesday, November 24, 2004
Getting Better

Right, as little as an hour ago, I was in a bit of a strop. Just normal midweek blues, feeling restless, regretting not going to the gym earlier. Wasn't my normal cheerful self at all. I needed something to lift me out of my gloom. Here's the playlist of the next hour or so.

1. The Streets - Stay Positive (6:16)
2. The Streets - It's Too Late (4:10)
3. The Streets - All Got Our Runnins (4:18)
4. The Streets - It's Too Late (Promo Mix) (4:26)
5. The Sugarhill Gang - Rapper's Delight (14:36)
6. Kelis / Pusha T - Popular Thug (4:13)
7. Kylie Minogue - Come into My World [Fischerspooner Mix] (4:20)
8. Kylie Minogue - More, More, More (4:42)
9. Kylie Minogue - In Your Eyes (3:20)
10. Kylie Minogue - Love at First Sight (3:59)
11. Kylie Minogue - Fever (3:32)
12. Kylie Minogue - Cowboy Style (4:44)
13. Kylie Minogue - Did It Again (4:22)
14. Kylie Minogue - Some Kind of Bliss (4:13)
15. Kylie Minogue - Limbo (4:05)
16. Pet Shop Boys - Left to my own devices (4:47)
17. The Streets - It's Too Late (Promo Mix) (4:26)

And now I feel much better. Simple as that really.


Monday, November 22, 2004
Pop Muzik
Ho hum. Not been a desperately exciting time in the world of Pop of late. X Factor limps toward it's dull conclusion, Eminem and Bland Aid make us wish they hadn't bothered and Robbie Williams is voted the greatest artist of the 90's and put in the UK Music Hall of Fame. We're winding down to an inevitable yuletide of woeful Christmas themed records and a torrent of Best Ofs and Greatest Hits to tempt your Auntie to part with her cash. But what's this?
BLAM!
Like an airstrike against a mediocrity, 2 singles crash land.
(Ok, they've been around a while, but I've only just round to mentioning them.)
The first...
Destiny's Child - Lose My Breath
"Can you keep up?" They ask. The rest of the pop world looks at the floor and shuffles it's feet. Rodney Jerkins finally shrugs off the disaster of the Spice Girls record all those years ago and creates a sound that kicks the crap out of everything else out there. Michelle, Beyonce and Kelly rise to the challenge admirably, both vocally, and vogueing it badass old skool style in the excellent video. The best thing they've released since 'Bug a boo', and well worth it's eight co-writers, including, interestingly, Jay Z. Don't bother with the album, which is by all accounts a bit duff. Just buy this. Surely the single of the year.
But, hang on...
Incoming!!
Gwen Stefani - What You Waiting For?
What the hell?
Is this really the same girl who crooned 'Don't Speak'? Who married that bloke out of Bush? A girl who's now 35? (Tick tock) Really?
Yes.
If you're a regular reader, you'll know that I'm prone to making somewhat exaggerated statements on such things. But when you listen to this single LOUDLY on REPEAT it sounds like:
THE BEST POP RECORD ABOUT POP RECORDS EVER WRITTEN. EVER EVER!
There we go.
Has anyone gone solo with such style, such enthusiasm, such brilliant self awareness and uncompromising savvy? She's been building up to this quietly: the collab with Eve, the gradual transformation of No Doubt from dull ska rockers into technicolour, Lady Saw and Bounty Killer featuring, Talk Talk covering pop punkers. But i was never entirely convinced she'd pull it off. I have never ever been more wrong.
This
is
Single of the year
.
Gwen, you're still a superhot female.
You're worth your million dollar contract.
And thank you for this hot track.
Go. Buy. Now. Well, what you waiting for?! Tick tock.
Fade To Grey
If you were ever going to hear about Dangermouse's
Grey Album
, you'd have heard about it by now, so don't worry, I'm not that behind the times. For those who missed it, US hip hop DJ Dangermouse took the acapella version of Jay Z's
Black Album
and put the vocals over a cut up mix of The Beatles
White Album
(do you see what he did?) Anyway, it was either greeted with over enthusiastic glee (hello NME, broadsheets, style mags) or disgust (purist fans and bootleg fanatics). But I've been listening back to it this evening, and my view now fall somewhere between the two camps.
I don't think Dangermouse ever intended for it to become the worldwide phenomenon it's become. For a start he'd have produced properly and hired a good lawyer. That said, on many of the tracks, it works really well. Ok, you're not gonna play it out, but especially if you're a fan of the two artists like i am, there are thrills to be had. Cutting loops out of the Beatles ain't as easy as it sounds, but, most notably on 'Encore', it rocks. Hearing familiar Beatles tracks ripped up is actually quite liberating and the fact that they still stand up shows how great they were. And many of the Jay Z tracks sound better on here than on the original release.
But surely the best thing is that it cuts through some of the mystique of the Beatles, which I'm sure John would thoroughly approve of. And it harks back to the early days of hip hop where Kool Herc would cut up the drum intro of the reprise of 'Sgt Pepper's Lonely Hearts Club Band'. The trendy kids would dance to it, completely unawares. Herc would then let the track play in full to shock them and show that although they thought the Beatles were square, they'd still fill the dancefloor is people didn't know it was them. Which is what it's all about.
Sunday, November 21, 2004
O Superman
Went to the wonderful Finchley Lido Vue Cinema to see
The Incredibles
this evening. Only to find the 6pm performance was sold out. So we got tickets for the 9pm showing, came home, watched some of VH2's Indie 500, ate some Carbonara, got back in the car and arrived back there again well in time to sit through half an hour of Toby Anstis on the pre-recorded Heart 106.2 filler track before the trails started. Hurrah!
Eventually we got to see the movie, and inspite of all our hindrances on the way, it was well worth it. Pixar have once again struck gold, and I think
The Incredibles
is probably the best thing they've done. I highly recommend it to anyone, old or young. Take the kids! If you don't have kids, take someone elses (but get permission first. The police are picky about stuff like that). Once again it shows that animation is more than equal to live action when it's treated with respect. I think it's about time we gave some props to the good people at Pixar productions for making kids movies that everyone can enjoy:
Toy Story
- A great movie with Tom Hanks
and
Tim Robbins in it. How often can you say that?
A Bug's Life
- Worth it for the outtakes at the end alone. Spellbinding stuff, and better than
Antz
, even though that had Woody Allen in it.
Toy Story 2
- Another great movie with Tom Hanks and Tim Robbins in it. How often can you say
that
?
Monsters Inc.
- One of my all time Disney favourites. The whole concept is just genius. Everything about the film is perfect. Billy Crystal, John Goodman, Steve Buscemi, the late great James Coburn?! Come on! Give em all an Oscar.
Finding Nemo
- My least favourite, but hell, it's still a firecracker of a movie. They even got Dame Edna to voice up the Aussie Shark! Tick that box.
and here we are back at
The Incredibles
- The best thing they've done so far, and overtakes
Monsters Inc.
as my favourite 3D animated spondooly. Roll on
Incredibles 2
and
Cars
!
Saturday, November 20, 2004
Let's Groove
Bumdaboomtish Bumdaboomtish Bumdaboomtish Bumdaboomtish
Bumdatishboom Bumdaboomtish Bumdatishboom Bumdaboomtish
Repeat for 7 minutes, for 4 tracks.
Yep, it's a new release from Guy Man of Daft Punk fame on his Crydamoure label. And it's cracking.
If my dad was here, he would, with a wry grin, comment that "it sounds like the needle's stuck". And, to be fair, he'd be right. But I love this shit. I could lap it up for hours! Funky basslines! Ripped up strings! Incomprehensibly cut up vocals! Come on! Put that in your pipe and smoke it. Lyrics? Pah! Deep meaning? Bosh! Intellectual contemplation? Flimshaw!
Let's groove.
Thursday, November 18, 2004
Kick It Out
Tuesday, November 16, 2004
ABC - 'All Of My Heart'
Part 8 in an occasional series of rediscovered musical gems.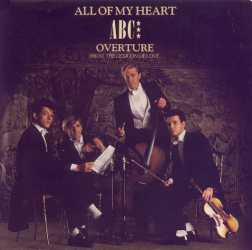 Oh wow... It's an oft used phrase, but they really don't make them like this any more. In fact, it's hard to think of a time other than when ABC existed that anyone would make anything this wonderfully flamboyant and over the top. I guess you could say it's synth pop, white soul or new romantic, but it's strangely timeless and overwhelming. Trevor Horn's production is like a score to the best wide screen Hollywood technicolour melodrama ever made. Martin Fry's voice is the lost every man, both deeply cynical, but also hopelessly romantic. It's an explosion of dramatic emotion, it just sounds enormous!
'All of my Heart's parent album,
The Lexicon Of Love,
is a masterpiece that's recently been rereleased with a stack of bonus tracks. All completely superfluous, of course, because the original was sheer perfection. The sound of a band and producer aiming to make pure, brilliant, shiny, extravagant and utterly sublime pop music that sweeps you off your feet into a delightful world of love, heartbreak, laughter and melancholy. It makes Frankie Goes To Hollywood sound meek and understated, and is an example to every popstar wannabe on how to make ballads effecting and, essentially, not shit. Pop has never sounded so good.
Saturday, November 13, 2004
Autumn Leaves
Autumn is slowly turning into Winter, but it remains my favourite season. As for why, I'll pinch a quote from the sleeve of 'So Why So Sad' by the Manics:
I love the Autumn for it's sense of melancholy seems to strike my need for sadness. There is poetry in the dying of the year and mystery as well.
Kyffin Williams
And appropriate of course that it comes from a Manics CD. A band that seem firmly rooted in the Autumn of their career. I've yet to get their latest LP
Lifeblood
. They were once the band who swore they would sell 20 million copies of their debut album and then split up. The ultimate rock n roll statement of intent. Of course, they didn't do either. I came to the Manics late, along with most people, through the release of
Everything Must Go.
Which is a bit like coming in halfway through
Saving Private Ryan.
You've missed all the exciting, blood splattered action, and you're left watching the long drawn out depressing ending. Unlike most new fans, however, I devoured their back catalogue and became a huge fan. They became one of my all time favourite bands.
But recently in the pub, someone asked me to come up with my all time Top 5 bands of all time. After much pondering my list looked something like this...
1.
Blur
The Beatles
2. Blur
3. The KLF
Very long pause for thought
4. Radiohead
5.
Manic Street Preachers
....
I didn't know who was number 5. But I knew it wasn't the Manics. How have they slipped from my Top 3 to outside the Top 5, and, if I'm honest, probably out of my Top 10?
The Holy Bible
is still one of my favourite albums. 'Motown Junk' is one of my favourite debut singles of all time. In my teenage years, their anger and passion energised me. I was never a member of the cult of Richey, but I felt his loss when i discovered what he had created before his disappearance. They were a band who were never fashionable, but had a complete ideology that was hugely seductive... But something happened between 1996 and now. Listening back to the underated
This Is My Truth Tell Me Yours
offers plenty of indicators. Everything really had gone. It was the sound of a band changed, unable to continue as before due to an intense loss of both and individual, and a whole ethos. They vainly struggled to regain their former spirit on
Know Your Enemy,
but ultimately failed.
From what I've heard,
Lifeblood
is the sound of the Manics coming to terms with being a middle aged rock band. And a good one at that. But this seems like a total betrayal of what they once stood for. Diehard fans will dismiss it as a complete sell out, the final destruction of their own myth. But I don't know. Is it more dishonest to attempt to regain the glories of the past when your heart isn't in it? Isn't it better to accept what you are? They've grown older. They've got families, a burden of history and Richey's disappearance looks permanent. But in getting the album, am I crossing the line I once towed with unflinching dedication, always pursuing cutting edge, fascinating new music? Always new, always relevant. Not playing it for old time's sake. Not growing old with the artists. When I was younger, I privately mocked older music fans still enthralled by new material from formerly great acts that had long since lost their contemporary significance, like Morrissey, The Orb or The Cure. By buying the Manics record, am I crossing that line? Is it time to accept that the bands I'm going to truly love forever are the ones that I first tasted as an idealistic teenager?
It's time. I think I'll buy the record.
Friday, November 12, 2004
Is This The Way To Amarillo?

Ah...deep cleansing breath. For some reason, I've got the hankering for some homesick blues, being out lost on the open highway. Or even better, songs of travellers taking their first step on the road back home, back home to where they belong, to see their love. You know the kind of thing I'm talking about. Road movie soundtrack fodder of the highest calibre. Here's a few that have instantly sprung to mind. Please do add more if you can think of any. Might well be compilation on the horizon... Over the horizon to where my baby's waiting for me...

Tony Christie - 'Is This The Way Amarillo?'
The Beatles - 'The Long And Winding Road' (The full fat, Spector 'original' with choirs, please)
Glenn Campbell - 'Galvestone'
Gene Pitney - '24 Hours from Tulsa' (Actually, having listened to the lyrics, this is the complete opposite, but whatever. It sounds right.)
Lee Marvin - 'Wandrin' Star'
The KLF - 'Build A Fire' (Electro country? Oh yes.)
PJ Harvey - 'A Place Called Home'
Nillson - 'Everybody's Talkin'
Black Rebel Motorcycle Club - 'Stop' (Mostly thanks to the video, but whatever)
Spiritualized - 'Feel Like Goin' Home'
Primal Scream - 'Kowalski'
REM - 'Leaving New York'
Emmylou Harris - 'KSOS (Medley)'
Mogwai - 'Yes! I Am A Long Way From Home'

Oh, there must be hundreds of others. The blissful melancholy of being a long way from home. The yearning for what you know versus the excitement of the new. Great records. And with a distinctly country rock air to them, this seems the complete flipside of the Soulfunkdisco selection from a few days ago. Any more ideas?


Thursday, November 11, 2004
Alone In Kyoto
I already wrote this post once, but my PC crashed (conspiracy? Hmmm) so I'll be it brief.
I have, in my wisdom, worked out the true reason for the US election result. Let's see the chart, Walter:
Now, my theory is that despite what all the commentators have been saying, there was only one issue that truly influenced the result we see above. Not Iraq or terror. Not gay marriage or stem cell research. Not healthcare or education. Not tax cuts or the economy, stupid.
No. The key was clearly the environment.
Uh?
Oh yes. Think about. Bush backed out of the Kyoto agreement to cut emissions. Kerry said he would go back in. More emissions means more greenhouse gases, means more global warming, means more polar melting means... rising sea levels. Take another look at that map...
Seems pretty clear that those folks on the coast don't much fancy wading to work. Well, except in the South where the water's lovely and warm. Makes sense to me. You heard it here first.
Anyway, back to the title:
'Alone In Kyoto'
. A wonderful track from Air, which appeared on the
Lost In Translation
Soundtrack (no, don't worry, I'm not going to go on about that
again
) and Air's most recent album,
Talkie Walkie:
A sublime little record, but one that seems to have gone rather unnoticed. I'm sure the majority of you are aware of the genius of their debut proper,
Moon Safari,
but the follow up
10,000 Hz Legend
was a bit weird for most people. However,
Talkie Walkie
is a magnificent return to their very finest form. Every track is just perfect. As ever, blissfully laidback, with plenty of saucy undertones and a Gallic flair that just becomes more welcome with every listen. I was lucky enough to see them play live earlier in the year, and they were better than i could ever have hoped. The biggest surprise was how well the songs were sounding even after having only had the album mere days. They sound even better now. Go on, do yourself a favour, stick on your Christmas List. You won't regret it.
Freedom Of Speech Won't Feed My Children




It begins!
So, ABC affiliates in the States won't screen
Saving Private Ryan
on Veterans day evening. Even after they showed it twice, uncut, in the last 4 years. With no complaints. Why? Hmmm. Well, the reasons given are the fallout from Nipplegate and the reelection of George W over moral issues.
This is censorship. And that's not good in any language. Whilst it is admirable and necessary to have positive regulation of the media, it's disturbing to see such a culturally productive nation slide back towards the dark ages, where anything thought to be slightly controversial or challenging is simply banned.
To be completely frank I think it's completely fu-
Wednesday, November 10, 2004
Soul Man

After exhaustive on the road testing, I've worked out the best aural antidote to the lethal combination of "morning" and "commuting". Souldiscofunk! Oh yes. A bedevilling mix of some of the best and most uplifting soul music in it's various guises. Here's the random selection that helped me get through the joyless nightmare of sharing a confined space with a number of miserable commuters:

Curtis Mayfield - Move on Up
Kool & The Gang - Get Down On It
R. Dean Taylor - There's a Ghost in My House
Wilson Pickett - In The Midnight Hour
Brothers Johnson - Strawberry Letter 23
Edwin Hawkins Singers - Oh! Happy Day
Stevie Wonder - Superstition
Marvin Gaye - What's Going On
Billie Holiday - Blue Moon
Stevie Wonder - I Believe (When I Fall in Love It Will Be Forever)
Stevie Wonder - You Are the Sunshine of My Life
Arthur Conley - Sweet Soul Music
Sam And Dave - Hold On! I'm Comin'
Jackie Wilson - (Your Love Keeps Lifting Me) Higher and Higher
Frank Wilson - Do I Love You (Indeed I Do)
Chic - Le Freak
The Supremes - You Can't Hurry Love
James Brown - Get Up, I Feel Like Being A Sex Machine
Sister Sledge - Lost In Music
Martha Reeves & The Vandellas - Dancing In The Street
Fontella Bass - Rescue Me
Gloria Gaynor - Never Can Say Goodbye
Marvin Gaye - Inner City Blues (Make Me Wanna Holler)
Sam & Dave - Soul Man

I know it's easy to skip over big lists like this, but every track will make your world a more wonderful place. And, yes, I know that a lot of those songs have been overplayed to the point of destruction, but it's a tribute to how great they are that they can not only withstand such abuse, but there's something new and wondrous to be found in each and every one. There's nothing quite like being on the tube surrounded by sour faces, and getting goosebumps in the breakdown of 'I Believe (When I Fall In Love It Will Be Forever)'.

Essentially, you can't get enough Motown, Stevie, Marvin, Chic, Jackie Wilson, Curtis Mayfield... hell, all of them!


Tuesday, November 09, 2004
Hella Good
Think Matt Groening only did The Simpsons, and some weird Sci-Fi cartoon with the robot and weird character with one eye? Firstly *slap* go and watch Futurama properly and secondly *slap* go and read
Life In Hell
. Where it all started. Bleaker, darker, edgier and in many way funnier than his other creations,
Life In Hell
is what the cartoons would be if he didn't have to pander to mainstream audiences who read the The Daily Mail. The message is clear: Childhood is hell, school is hell, work is hell, love is hell... you get the idea.
Friday, November 05, 2004
You Could Feel The Sky
Like most people, I'd imagine, I've always entertained the idea of living abroad. Not permanently, I love this idiosyncratic and wonderfully flawed little country far too much, but just for a bit. And, being as ashamed as I am that it's the only language I've ever come to grips with, I'm resigned to it being an English speaking country. Logically, I always assumed it would be the good old US of A. New York was of course top of the list, but I'm equally drawn by the likes of LA, Boston, Chicago and, of course, Las Vegas. However, as America appears to be shifting somewhat, away from my field of political tolerance, I'm a little put off. And it would seem I'm not alone. Many Americans themselves would appear to be looking across the Canadian border, as you can see
here
. The Canadian immigration website had 6 times as many hits, over 100,000 the day after the election. Perhaps this is a little extreme. Maybe a quick resketching of the borders as below might help things out...
In either case, it's pretty clear that Canada is by far the best choice open to me now. There's something about the place that intrigues the explorer within me. Sparse, underpopulated, wild countryside... The complete opposite of our cramped but cosy little island. Something about the wide open skies, fresh air, even the cold, the snow, that chimes with my inner desires. After all, modern life is crazy. We weren't born to live in houses, walk on concrete, get in cars and trains, sit in offices. The dreaded moan of "back to reality" couldn't be further from the truth. Our ancestors slept beneath the stars, lived off the land and existed at one with nature. The fact that we don't any more is part of the reason we're all so screwed up and why the planet's in such bad shape. It's true you know. I might sound like a tree hugger, but it's those wild open spaces that call me even now.
The Scottish Highlands, Scandinavia and Nova Scotia. The kind of terrain traversed by my ancestors, the source of the Anglo Saxon, Celtic and probably Viking blood that flows through my veins. I know one day I'll go there. And, to be honest, my main fear is that I won't want to come back.
It's Not The End Of The World
Concerned about all the bad stuff going on in the world? Well, just refer to the
UK Department Of Social Scrutiny
. There's really nothing to be worried about, it'll all work out. Why not follow the advice of the leaflet below? Just click, it couldn't be easier...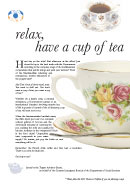 There you go, isn't that much better?
Thursday, November 04, 2004
This Is Not America
Ah, well. Just about recovered from staying up til 10am yesterday morning for what has to be one of the most captivating 11 or so hours of television I've ever endured. David Dimbleby was my host of choice on Auntie Beeb, with his 2 fantastic analysers, Professor Alan Lichtman and (of course) John Snow, both of whom appeared to either have ADD or eaten one too many blue smarties, but I must confess to flicking around. Sky were suitably on the ball (and rather embarrassed by their Fox News counterparts in the States. More on them later!), and even ITV News kept things going along nicely, but the most fun was to be had on the US networks. Through the wonders of satellite TV I was treated to the cautious CNN, dependable NBC and the oh-so fair and balanced Fox News, all with ultra polished anchors with good hair and preposterous names like Wolf, Brit and Major. You already know what happened next. Fox News called Ohio for Bush. 4 more years.
Anyway, after all that, it was nice to come back to earth with the British papers this morning. I rolled up into a snug little ball with the Indendent and the Guardian why-oh-whying and felt much better with the world. Cover of the day was easily the Indie (as above), under stiff competition from the Mirror. Although still not sure about the new compact Indie. It just feels wrong...
And on that note I turn my back on the US election,
just like President Bush turned his back on the UN. Alright, enough!
Ok. Still not keen on the small is beautiful mantra that seems to be infecting everything that we hold in our hands these days. We live in a rainy country. Papers should be big enough to shelter at least 4 people. The compact Indie and Times simply don't cut the mustard. Political moderates are therefore forced to choose between the Torygraph or the lefty Graudain. (Or the FT, and who wants to read that?) But sadly it is not just newspapers that have suffered. The NME has shrunk considerably, and the Melody Maker kept shrinking til it became a non-descript magazine and then disappeared altogether! Away from the press, everyone seems pretty sure that Wotsits, Monster Munch and Cadbury's Creme Eggs have all shrunk since their childhood, despite vehement denials from the producers. I now have to ring my mobile to find exactly which piece of furniture it has disappeared into.
However, I was drawn to one of the most artistically detrimental resizing exercises of recent times as I was reviewing my recent charity shop record purchases. Record sleeves look great. 12 inches square is the ideal canvas to create something that the eye can truly appreciate. CD's look crap in comparison. Last night, in what I can only describe as a departure from my normal behaviour, I was listening to U2. Now... U2 are one of those bands that kind of fall between 2 stools. They're a bit too glib and populist for a dedicated arrogant music snob like myself to be doing with really. But they're certainly not in the same league as genuinely crap bands that demand execution (the likes of Genesis and Simple Minds spring to mind). And so, when I happen across one of their records in a charity shop for a reasonable couple of quid, I pick them up. So I find myself with
The Unforgettable Fire, The Joshua Tree
and
War
all in my possession. I ploughed through them all last night, and was embroiled in a guilty pleasure of forbidden enjoyment. The Eno/Lanois production on the former 2 is still sublime, and the political angst of the latter is still more than palatable even after all these years. It's a lot better than
Pop
at any rate. However, the sleeve that startled me was the one for
War.
I've seen the picture a thousand times before, mostly in magazines or the CD or a poor reproduction like that above on the internet. But on the picture sleeve, it's far more engaging. The clarity in the boy's face and eyes is really quite moving. The cut lip, the hands behind head in surrender. It's a brilliantly fierce image that you can't look away from, invoking mental comparisons with photos from Vietnam and thousands of other conflicts. And it's only in this form that the boy's head is almost lifesize, that it truly comes to life. I know this is very much a wanky, Q magazine, Record Collector reading, vinyl collector's point, but i really think it's true. There are countless other sleeves which work on this scale that spring to mind. I'm gonna post a few under here, and you can hover over them for more info. In fact, what I really want is those plastic record display wallets that they have behind the counter in record shops, so I can hang some of these mini-masterpieces on my wall (and make sure once and for all that noone will ever love me). Also, rather nice that we finish on an anti-War record. How very appropriate! Enjoy the sleeves:
And I really wanted to put up the vinyl cover of the
Lost In Translation
soundtrack, which has Scarlett Johansson's bum on the cover from the opening scene. But sadly I couldn't find the album cover anywhere online. So here's the basic arse picture.
That'll do. Just a few of my faves, and by no means definitive or exhaustive, but still pretty pictures.
Wednesday, November 03, 2004
Ifwhiteamericatoldthetruthforonedayit'sworldwouldfallapart
Tuesday, November 02, 2004
Broken Beats
Sorry, yet another bootleg post, but believe me, this is well worth it.
Party Ben - 'Boulevard Of Broken Songs'
Available to download from
Party Ben's Website
(look on the right hand side). Needless to say, if you like indie anthems, this will blow your socks off, and refreshes a song I long thought lost to banality. Genius.
Computer Games
A nice new bootleg from the mysteriously monickered j0hnny180hydroplant. MIA vs Super Mario anybody? Get em while they're hot. Now where's my NES?
It's Alright, I Feel It

Right. As my last post was saying, I've been digging through the crates of old and new music both as a tribute to the late, great Peelie, and to cheer myself up immensely. But if there's one thing I enjoy more than digging out great music, it's making lists of what I've been digging out. So here you go. Track these down if you want. If you don't, then skip this post. No hard feelings.

My Bloody Valentine - Loveless LP
Joy Division - 'Atmosphere' (as perfect as song as has ever been recorded)
Prodigy - 'Smack My Bitch Up (Jonny L Remix)'
Mylo - 'In My Arms'
Mogwai - Mogwai Young Team LP
Four Tet - Rounds LP
India Arie - Acoustic Soul LP (most notably 'Video'. Sublime)
Lisa 'Left Eye' Lopes - 'Life Is Like A Park'
Aphex Twin - Richard D James LP
Knifehandchop - Peel Session
Laurie Anderson - 'Oh Superman'
The Fall - 'Hit The North'
Yellow Magic Orchestra - 'Behind The Mask'
NWA - 'Straight Outta Compton' (Calm down, loves...)
Smashing Pumpkins - 'Today' and just about everything else they ever did...
Telepopmusik - 'Breathe' (Great house track that sort of disappeared without trace)
Wire - Pink Flag LP (although devastated that 'Three Girl Rhumba' has just appeared on an ad...)
Brian Wilson - SMiLE LP ('Good Vibrations' still gives me goosebumps when it kicks in!)
The Beatles - Rubber Soul LP (especially 'Think For Yourself' by George)
Orbital - 'Chime' (Annie Nightingale started with it on Thursday and made me cry)
Goldie - 'Timeless' ('Inner City Life'. For 20 minutes. I'm happy.)
Bill Hicks - Rant in E-Minor LP (not music, but I don't care)
Aaliyah - 'Are You That Somebody?'
David Bowie - Low LP
Felix Da Housecat - 'Silver Screen Shower Scene (Jacque Lu Cont Thin White Duke Remix)'
Sweet Laredo - Sweet Laredo LP
Nightmares On Wax - Smoker's Delight LP
Kanye West- 'We Don't Care' (The best singalong chorus since ever)
Explosions In The Sky - 'First Breath After Coma' (Cheers Steve)
Atari Teenage Riot - 'Revolution Action' (RAAAAAAARGH)
Junkie XL - 'Zerotonine'
Barry White - 'Loves Theme' (Instrumental, but no less emotional)
The Pixies - 'Debaser'
Omni Trio - 'Renegade Snares (High Contrast Remix)'
Snow Patrol - 'Chocolate'
Kenickie - 'Come Out 2 Nite' and 'Punka' (Of course. Lauren, marry me.)
Marvin Gaye - What's Going On LP
Danmass - 'Happy Here'
Nu Yorican Soul - 'It's Alright, I Feel It' (My life story set to house music. Not the band!)
Bronski Beat - 'Smalltown Boy (Secret Service Remix)'
John Peel - Fabriclive.07 LP

Well, they've made me very happy that's for sure. I haven't dug out all the labels or albums for the singles, but if you're curious, leave a comment or email me and I can let you know. Also, tune in to Mary Anne Hobbs on The Breezeblock on Radio 1, who, after John, has probably influenced my record collection more than anyone. Enjoy!!


Monday, November 01, 2004
Lovely Day

Hello. Ah, what a lovely day. Yeah, ok it was actually a bit miserable, and it got dark, but I'm in a rather fine mood at the moment. Hard to put my finger on quite why, but there are certainly a few factors. Being off work certainly helps, and I make no apologies for not going away anywhere. I spend most of my spare time and money making my flat a nicer place to live in. I'm gonna make every attempt to enjoy it when i get the chance. Also, I've been going out for a wander. I find this a hugely relaxing pastime, and I'm slightly annoyed at myself for forgetting how much I enjoy it. Strap on some headphones, fire up your portable music device with an eclectic music of tunes, and then walk. Wherever you want. In today's case it was up past the library and then all the way to North Finchley and back, with a few detours here and there, ending up in Tesco where i bought...

JESUS! That was the biggest spider in the world. I caught it out of the corner of my eye as i was typing that and totally freaked out. I'd like to apologise to my neighbours for my language. Don't worry, I did the right thing and trapped it under a glass and chucked it out of the window. I'm really quite aracnophobic. Especially when they're as big as that one. Shudder. Right, now, where was I?

Oh yeah, I bought the normal array of wonderful items from Tesco and returned home fully refreshed. There's something about wandering aimlessly for a bit that makes me feel better. Another catalyst for my fine mood is what i can only term as a rediscovery of fine music. Those that know me might think that's a bit daft. All i ever go on about is music. But for some reason of late, I've lost... something. Ironically, it took the death of John Peel, one of my musical heroes, to revive me from my musical coma and remind me what I've been missing out on. As such, i picked up some NWA, Nightmares on Wax and Aphex Twin, ripped loads of my classic albums for my IRiver and have just generally absorbed more wonderful records from the distant past to the present. And it feels good. I highly recommend it!


All opinions expressed within the pages and comments of this blog are solely those of the author, and not of his employers or associates. If you have any complaints, corrections or queries regarding any of the material contained within, please contact the author via
email
. Thanks for reading!