Sunday, January 16, 2005
Blur - 'For Tomorrow'
Part 11 in a now apprarently quite regular series of rediscovered musical gems.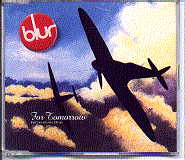 At last, after surely cursing their luck so far, my favourite band of my era finally gain a place in what has to be one of the most sought after lists in the world.
So why this song? Is it my favourite Blur song? Nah, not really. 'Sing', 'Beetlebum' and 'Resigned' are all better in my opinion. But this is the song that's had the most effect on my perspective, and therefore, I suppose, in a non-wanky way, my life. It's no secret that Blur had a real London phase, and I love London almost as much as they do (did?), but this is their most quintessentially London song. It's always been a hugely aspirational song for me, during my teens, growing up (as Damon did) on the outskirts of London, like a kid outside a sweet store, pressing his face up against the glass. I dreamed of journeys down the Westway, chilly walks across Primrose Hill, taking in the vista of the city, just being in the city, feeling the energy of the place.
I'd spend ages flicking through the booklet of it's parent album,
Modern Life Is Rubbish,
which, in a twist of arch irony, was actually a Japanese Import copy (extra tracks innit?) So next to the great pics of Blur on the tube and wandering around London's streets and parks were the lyrics printed in perfect Japanese. So my dreamy visions of paradise living in London would always have a strangely oriental flavour, manifested now in my love of Japanese T Shirts and Sushi.
But 'For Tomorrow' has once again filled my conciousness with dreams of London for a very good reason: I'm on the move. Oh yes. In but a few short weeks I'll be departing this lovely, if somewhat suburban, pad in Finchley for racier climes. And right in my sights is the slab of London that has forever filled me with romantic longing. That rags to riches, grime to grandeur district stretching from the aforementioned (and bloody expensive) Primrose Hill, over Chalk Farm, through Camden Lock, past the Goths, to the legendary Mornington Crescent, over Islington and the Angel sweeping up towards the home of my footballing soul in Highbury, back across towards Tufnell Park and my Spaced fantasies. So yeah, somewhere there. Know anywhere? Cheap? Please?!
All opinions expressed within the pages and comments of this blog are solely those of the author, and not of his employers or associates. If you have any complaints, corrections or queries regarding any of the material contained within, please contact the author via
email
. Thanks for reading!