Wednesday, July 27, 2005
The Cranberries - Linger
Part Three in an occasional series of songs i should hate but actually don't.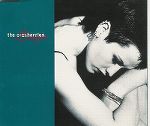 Ah, here we go. The passport back to a life I often try to sweep under the carpet and pretend never happened. A life before the awakening. Before the pursuit of "cool". A life hidden behind a huge monolith on the road of my life, on which is inscribed, in huge letters "1994". For it was in 1994 that while my friend John and I were doing our paper round, John insisted I listened to a song on his walkman (I'm already sounding like grandad. "They played "cassettes" son, remember them?") That song was 'End Of A Century' by a band I'd never heard of, called Blur. It was from the album
Parklife,
that his brother had taped for him just that week. And it more or less turned my world upside down. But that's another story.
This is an artifact from before that moment of epiphany, stood clutching Watford Observer's in the cold on Bournehall Avenue. This is the world of a boy just starting to explore what would one day become everything. A time when I'd retuned from 1FM to Virgin 1215, which was a brand new, exciting national station on crackly AM. When Nasty Nick Abbot's evening show supplied everything you could ever need at 13 (Crude innuendo, meaness to callers and the very best rock from the 70's, 80's and 90's. Mate.) And this was a mainstay of the playlist. I even recorded it onto a blank tape so i could listen to it whenever i wanted. And I loved it.
The Cranberries always were an awkward little band. Singer Dolores O'Riordon was quite spectacularly annoying in every interview. They went from being stereotypically Oirish and twee to singing slightly cringeworthy protest songs about The Troubles ("With their tanks and their bombs, And their bombs and their guns!" indeed), and then just rubbish really. But this works. It's great. I still love it. It's featherlight and fragile (delicately produced by former Smiths knob twiddler Stephen Street, who ironically also produced...go on, guess... yup.
Parklife.
Only just realised that from reading the sleeve!) I adored the phrase "you know I'm such a fool for you", and Dolores' delivery, for once, compliments the song, rather than swamping it. It sends me back to night times listening under the covers, and day times in the sunshine.
I wasn't cool at 13. But then I heard Damon Albarn singing about ants on carpets, and a whole new world of possibilities opened up before me. A world were you could listen to Radio 1 again, where bands you cared about got on the news. And everything changed. It's a world I'm still exploring. But some songs just sound like home. Along with what my dad played me from The Beatles, The Beach Boys and The Stones, this is one of them.
All opinions expressed within the pages and comments of this blog are solely those of the author, and not of his employers or associates. If you have any complaints, corrections or queries regarding any of the material contained within, please contact the author via
email
. Thanks for reading!