Sunday, January 30, 2005
I'm Only Sleeping
My bout of mumps now seems to be at end, but has left me understandably exhausted. I don't think I've ever slept so much in all my life. I like sleep a lot, as I tend to bombard myself with stuff when I'm awake, and my body is understandably grateful for any respite it can get. My sleep of late has been full of dreams, mostly of people I see almost daily, but whose company I have been deprived of by my illness. I've also had dreams of journeys, buses, trains, the feeling of motion, again which i haven't experienced for the best part of a month now. Still, it's all coming to an end again now, which is good news for everyone cos maybe I'll shut up moaning.
Everybody seems to think I'm lazy, I don't mind, I think they're crazy
Having risen depressingly late in the day today, the obvious thing to do in the evening would be to watch a wonderfully bewildering dreamlike movie. Luckily Alex has
Mulholland Drive
on DVD, and I hadn't seen it before. I knew it would be weird, as it's David Lynch, the man behind
Lost Highway
and
Twin Peaks
. And it was a disturbing, disconcerting and luscious pleasure. I won't even attempt to summarise it, for fear of ruining it. Needless to say, if you like to movies to leave something to the imagination, this is for you. It left me haunted, and aching to see it again, which I'll do sometime next week.
There's no feeling quite like walking away from a brilliant piece of cinema. If you can lose yourself in someone elses vision, for those few minutes, sometimes hours afterwards, it's as if their world has bled through to yours, just a little. Not always in the way Lynch's films do, which distort reality, and make everything seem that little bit hypereal, but perhaps in the way I walked out of
Ocean's Eleven
, feeling 10 feet tall, and wanting David Holmes to follow me round and soundtrack my life. Or equally something like
Amelie,
with an infectious sublime technicolour skew on reality that makes everything seem good with the world. It's such a delicately happy movie, it have to ration it like cinematic medication.
Friday, January 28, 2005
Be Thankful For What You've Got
Praise be to Boards of Canada. Their LP
Music Has The Right To Children
is the one thing that got be through my finals.
A magical album. It just works late at night, when you're stressed out, with 4,500 words of essays ahead of you that need to be in by 9am, and you've drunk 4 litres of Diet Coke and not slept for the past 2 nights. It's icy electronica inspires visions of peaceful glaciers and aurora borealis, the purity of nature, which is what you need in a high pressure situation. Along with Air's
Virgin Suicides
Soundtrack and Aphex Twin's
Ambient Bubblebath Vol 3
, it saved my degree and got me through more writing than I've ever managed in a 48 hour period before. But it's a great album anyway, as are the others, and I recommend them to all. Especially if you've got essays to write...
Thursday, January 27, 2005
There Goes The Fear
If you missed the brilliant three part documentary on the BBC, The Power Of Nightmares, I urge you to check out the information on it at
bbc.co.uk here
. Maybe if it'd been aired in the States before the election we might be entering the... (now this is telling. I've already forgotten his name. Got it!) Kerry years. But even now the major networks don't want to know. Funny that.
Anyway, the one key message that the programme gives, which personally made me feel better, is about the mythical culture of fear that has been built up since September the 11th. Apparently these are the darkest times. We are told that we are at risk of being wiped out by international terrorism. Eh? Sorry? This is the darkest time in our history? You what? Blair and Bush might have remarkably short memories, but even I learnt about WW1, WW2 and the Cuban Missile Crisis. Just a few years ago, the IRA were merrily blowing the shit out London on a daily basis, and to be honest most of us didn't give a toss. Ok, so the Piccadilly line's been blown up, right, ok, I'll get the Victoria and then change onto the Northern Line, yeah, I can do that. Now we're supposed to be scared because a handful of religious loonies thousands of miles away with no real organisation or support might try something. The programme exposes this for the fallacy it is. Sept 11th was a one off fluke, most of those training in Afghanistan were planning to fight in their own countries (Iraq, Chechnya, etc) and al Qaeda as a international terrorist network simply does not exist.
However, the really scaring thing about the programme is that once it dismisses al Qaeda for the irrelevant chancers that they really are, you start to look closer to home. Why are we constantly being told to be afraid? Why the terror threat levels? We never had them even in the darkest days of Irish terrorism. It makes rather uncomfortable reading. However, the most reassuring thing is that, as ever, most Brits couldn't really give a monkeys either way.
They say the only thing to fear is fear itself. For once, they're right.
Wednesday, January 26, 2005
Redemption Song
My good friend
Paul
has a rather lovely survey on his blog, which I'm now going to rip off. Which is kind of the idea anyway, so here we go.
What is the total amount of music files on your computer?
31.3Gb or 7141 files. Mostly for my lovely IRiver and cheeky bootleg mixing projects.
The last CD you bought is: The Zutons - Who Killed The Zutons?
Jumping on the bandwagon very late in the day, I admit, but a lovely little gem of an album. As a debut, it's very good. The singles are the main highlights, but there's plenty more to discover. Plus I quite fancy the saxophonist having seen her and the lead singer doing their fave videos on VH2. And a fine selection they made too. Thumbs up all round.
What is the song you last listened to before reading this?
Joe Strummer and the Mescaleros - Redemption Song.
The former Clash frontman's acoustic cover of the traditional song made famous by Bob Marley. It was rereleased on picture disc 7 inch after his sad death, and it's simply wonderful.
Write down 5 songs you often listen to or that mean a lot to you.In no particular order:
Blur - 'Sing'. My favourite song of all time, and it's barely a song, really. It was hidden away as an album track on their debut, but resurrected in my favourite bit of Trainspotting. When I was a teenager, and would spend hours sat in my room listening to records, I'd always listen to this just before i went to sleep. It sends shivers down my spine just thinking about it. I'll dig it out...
REM - 'Daysleeper' Probably my favourite REM track, and one that reminds me of my habit of sleeping in rather too much in my first year at university. Also takes me back to a period of unrequited love, but I think we'll leave it there!
The Streets - 'Has It Come To This?' From Mile End to Ealing, from Brixton to Bounds Green. Takes me back to starting work in the Capital, and chimes with my life growing up. Whenever i hear it, I can remember walking out of the tube onto Oxford Circus in the morning, with it on my walkman, feeling excited about going to work.
Stevie Wonder - 'I Believe (When I Fall In Love It Will Be Forever)' The perfect end to one of our greatest albums,
Talking Book.
A love song without any reservations or pretension. When it plays over the end credits of
High Fidelity
, I just want to watch the whole movie again. And, of course, because I do.
Jackie Wilson - '(Your Love Keeps Lifting Me) Higher and Higher' Another Tamla/Motown classic. Like bottled sunshine. A song I've loved since childhood. Funny story attached to it: I put it on a compilation tape for my mate Alex, and he played it in his car. But only one of his speakers worked, the left channel. And like most early Motown records, the instruments and vocals were split across the stereo spectrum. So all he ever heard was the main vocal, the drums, the bass and the piano, entirely missing the guitar, brass section and gospel style backing vocals, ie half the record! And he still loved it! A magic record.
Who are you going to stick it to next and why?
I dunno. We'll see if anyone picks it up from here.
Saturday, January 22, 2005
We All Stand Together
Sick of the Crazy Frog? But got the feeling you've heard it all before?
Well, if you've used the internet at all in the last 5 or so years, and received
hilarious
forwarded email from 'friends', you must've taken the "Insanity Test". Remember? Where you stare at the racing car picture that does nothing, but has someone pretending to be a racing car blithering in the background for 2 minutes. It was pretty funny. Once. 5 years ago. Go on,
check it out
, it
is
the crazy frog. (If you really feel the need to compare,
here's the ringtone
. Don't buy it or I'll hunt you down.)
So, not only can you be pissed off at the dreadful hoards of 11 year old urchins polluting the air with that noise, you can also be smug that you were there first. And it didn't cost you a penny. And back then it was funny. ONCE. FIVE YEARS AGO.
What Do I Have To Do?
Ok, now I've already posted my internal anguish at the
Ultimate Kylie
compilation. I instantly spotted on release that they had unbelievably dropped the SAW masterpiece that was 'Finer Feelings'. This was enough of a disaster for me to take. With my shelves already well stocked with Kylie from 'I Should Be So Lucky' to 'I Believe In You', a Greatest Hits is superfluous. I tried to put the whole sorry incident behind me. However, the DVD videos compilation is another matter entirely. What better way to relive the memories of Kylie down the years? After everyone failed to buy me it for Christmas (I have no family!) I bought it off Amazon, and it finally arrived. So I settle down to watch it, perfect illness antidote, knowing all will be good with the world.
First video selection... Hmmm. 'Breathe'! From the
Impossible Princess/ Kylie Minogue
Deconstruction album. Partly cos I'm a snobby indie kid, and also because it's a great record and you never ever see it on music telly ever. Great stuff. Simple, but the song is more than good enough to carry it. What next? Oooh! The one with Dexter Fletcher in it! 'Some Kind Of Bliss', from the same album, with help from her mates and mine, the Manics. Right... Erm... It's not with 'Breathe'. That's weird. I'll skip back. Nope, this is all Stock Aitken and Waterman stuff. Skip forward. Nope, this is all Parlophone stuff, post 'Spinning Around'. Let's have a look at the sleeve:
.....
Celebration
***Where Finer Feelings should've been Grrrr***
Confide In Me
Put Yourself In My Place
Where The Wild Roses Grow (Yaay! At least this is on)
Did It Again
Breathe
Spinning Around
....
WHAT?! It's not on here! One of her best videos, and most underated songs! The lead off single from an entire album! The lost album! The one that people NEED TO LEARN ABOUT! And it's not there! I'm reeling in shock, as the full horror sinks in. They've left 'Celebration' on, whilst eliminating two of her best singles on Deconstruction! Where is 'Where Is The Feeling'? And all this without going into the fact that 'Your Disco Needs You' from
Light Years
doesn't appear either. It's a disgrace! An outrage! An...An...! Oh... look at you there, dancing round your bedroom singing 'I should be so lucky'. How can I stay mad at you? *sigh*
"I've got to be, got to be certain!" Looking good on that carousel there, Kyles. What exactly are you wearing? Ah whatever... Those outtakes are just adorable. Say what you want about Waterman, but he knew what he's was doing! What's next? 'The Locomotion?' Bollocks to that. Skip...
Thursday, January 20, 2005
Teenage Fanclub - 'Sparky's Dream'
Part 12 in a now apprarently quite regular series of rediscovered musical gems.
Ok, here we go. Now we're not messing about. Simply, I think this is one of the most wonderful guitar pop records ever made. 10 years on from the first time I heard it, and my feelings haven't dulled one iota. It's 1am, I've got my headphones on full volume and I'm jumping up and down on my bed playing air guitar to this. I've listened to it about 5 times on repeat already, and it feels like every fibre of my being has suddenly spontaneously started producing endorphins, like I'm bathing in seratonin. It's a dreadfully inefficient cliche to say that it's a summery tune. It's a tune so good that summer almost fails to live up to it's promise. If I was going to make a holiday tape for a friend, this is the first song on it. Forget The Beatles, forget everyone. What Teenage Fanclub created here is an all time classic.
To me it just represents everything that summer used to mean. It feels like bittersweet unrequited love on carefree days where the evening just stretches on and on, with never ending possibilities in the balmy air. I'd be fibbing if I say it took me back to 1995 with positive memories. I certainly don't have many great memories about being 15! But it transports me to a world where I guess I fit in. A world without worries, be they GCSE's, A Level's, Degrees, Jobs, Pensions and heartbreak. It's vision of love is simple and innocent, the excitement and anxiety of the blossoming partnership, or just a sunshine fuelled crush. It makes me want to fall in love just so I have someone to think about while it's playing. Someone who'll find it on their mix tape and fall in love with it as deeply as me. All this in a 3:15 pop song.
Probably the first song in this series that I would want to be played at my funeral, simply it couldn't help but put a smile on everybody's face.
Wednesday, January 19, 2005
La, la, la, la, la...
Tuesday, January 18, 2005
Turn The Page
Time to give thanks to some of the stuff which is keeping me vaguely sane at the moment. All hail
Black Books.
Got the first 2 series on DVD, and though it's a bit of a slow starter, there are moments of true genius. Dylan Moran's character is a nervous woman-obsessed, idiotic, lying, chain-smoking, angry, workshy, mean alcoholic. In other words, a fine role model. Tamsin Greig is neurotically brilliant, displaying just what a waste of talent
The Green Wing
was. And Bill Bailey is in it. Nothing more needs to be said. And they've jammed in enough guest talent to create their own comedy village. Heaven be praised. Also the running theme of copious amounts of red wine eventually leading to disaster is one that I can easily identify with. Doom! Failure! Everything always ends badly, but in hilarious consequences. Which is generally how i try to live my life.
We Are Family
I've always been a massive fan of Sister Sledge. I remember finding 'Frankie' on a copy of Now 5 that i bought from a car boot sale as a kid (20p. Bargain! Still got it now) and it went on to soundtrack my first crush at primary school. Not that the song is about that sort of thing at all, but whatever. As i discovered more of their records I fell in love with them even more. 'We Are Family', 'Lost in Music', 'Thinking of You' and 'He's the Greatest Dancer' are all solid gold classics, and the fact that they're all on their
We Are Family
LP, as produced by Chic, makes it one of the greatest albums ever. Fact!
And a man who agrees with me is LondonLee, who has posted a similarly gushing tribute, and an early Jackson 5-esque Sledge track on his
blog
. Ch-check it out.
Time To Get Ill

I've got mumps. Mumps! Bloody mumps! "What are you? 6?" as one of my friends helpfully pointed out. Yeah, I didn't ask for it, did i, Dan? Git. Anyway, no idea how I got it, but I have, and it's very unpleasant. So I'm stuck here, at home, unclean, unloved, unwanted *sniff* Oh, pull yourself together man. I could be feeling poo for a couple of weeks. Hopefully less. Anyway, the main reason I'm telling you this (I'm not fishing for sympathy, i promise) is to give you a perspective on my posts for the next couple of weeks. I will be more or less trapped by the confines of my flat, save a quick trip to Tesco for more soup, so I might start going a bit stir crazy. Which should at least be amusing to watch, or in your case, read. I would post up a picture of myself with swollen face, but I'm worried that those of you who've actually seen me before won't notice the difference, and those who haven't will forever associate my visage with that of a bouncy castle with an over enthusiastic pump.


Monday, January 17, 2005
You Spin Me Round (Like A Record)
Sunday, January 16, 2005
Blur - 'For Tomorrow'
Part 11 in a now apprarently quite regular series of rediscovered musical gems.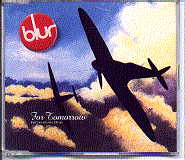 At last, after surely cursing their luck so far, my favourite band of my era finally gain a place in what has to be one of the most sought after lists in the world.
So why this song? Is it my favourite Blur song? Nah, not really. 'Sing', 'Beetlebum' and 'Resigned' are all better in my opinion. But this is the song that's had the most effect on my perspective, and therefore, I suppose, in a non-wanky way, my life. It's no secret that Blur had a real London phase, and I love London almost as much as they do (did?), but this is their most quintessentially London song. It's always been a hugely aspirational song for me, during my teens, growing up (as Damon did) on the outskirts of London, like a kid outside a sweet store, pressing his face up against the glass. I dreamed of journeys down the Westway, chilly walks across Primrose Hill, taking in the vista of the city, just being in the city, feeling the energy of the place.
I'd spend ages flicking through the booklet of it's parent album,
Modern Life Is Rubbish,
which, in a twist of arch irony, was actually a Japanese Import copy (extra tracks innit?) So next to the great pics of Blur on the tube and wandering around London's streets and parks were the lyrics printed in perfect Japanese. So my dreamy visions of paradise living in London would always have a strangely oriental flavour, manifested now in my love of Japanese T Shirts and Sushi.
But 'For Tomorrow' has once again filled my conciousness with dreams of London for a very good reason: I'm on the move. Oh yes. In but a few short weeks I'll be departing this lovely, if somewhat suburban, pad in Finchley for racier climes. And right in my sights is the slab of London that has forever filled me with romantic longing. That rags to riches, grime to grandeur district stretching from the aforementioned (and bloody expensive) Primrose Hill, over Chalk Farm, through Camden Lock, past the Goths, to the legendary Mornington Crescent, over Islington and the Angel sweeping up towards the home of my footballing soul in Highbury, back across towards Tufnell Park and my Spaced fantasies. So yeah, somewhere there. Know anywhere? Cheap? Please?!
London Loves
Wednesday, January 12, 2005
De Lacy - 'Hideaway (Deep Dish Remix)'
Part 10 in an occasional series of rediscovered musical gems.
The first house track to feature in this hallowed list, but what an amazing record. The soulful original dubbed out to a blissful trance (in a good way) by Deep Dish. The DJ's at the New Year's party I was at managed to redeem themselves by dropping this at about 2am, and it felt like the song was lifting me out of my own body. The lyrics are traditional boy meets girl, boy is bastard to girl, girl writes song about how crap bloke is and how she'll find true love as an independent woman. But the hypnotising production make the entire thing sound like a spiritual exorcism, whilst the pounding rhythm keeps you dancing, eyes closed, arms aloft.
House gets a bad rap, lambasted as disposable and superficial, but it's this kind of soulful record that proves what an emotional and life affirming form of music it can be. A classic.
Sunday, January 09, 2005
Double Fantasy
If you read my blog for my analytical social insight rather than my music trainspotting (snigger) you might want to skip over this post. Or, you know, if you've got any kind of sense. Whatever...
Most normal people only buy an album once. But, as it must now be abundantly clear, I am not normal. And for that reason, there are several records that I own more than one copy of. They are often my most favourite albums of all time. So here are some of them, and why I felt the need to pay for them more than once. Like a fool:
Blur -
Parklife
Elastica -
Elastica
Oasis-
Definitely Maybe
Ah... cassettes. Remember them? In these days of Mp3s, Ipods and ringtones it's easy to forget that as little as 10 years ago, cassettes were still a major force to rival CDs. They certainly were for me, anyway. I only had a battered old walkman in 1994, so when Britpop took off, it was on cassette that i got these albums. When i finally saved up my pennies for a CD player, these just didn't feel the same any more. The idea of
fast forwarding
through a tape before i could listen to 'Waking Up' became preposterous. So I went and bought them all over again. And i was more than happy to.
Blur -
Modern Life Is Rubbish
I managed to scratch it right over 'Resigned', one of my favourites songs. Like a twat. So I bought the Japanese import version with extra tracks. Hah! Take that, fate!
Stevie Wonder -
Talking Book
Stevie Wonder -
Hotter Than July
I had them on CD. And then I saw them on vinyl in a charity shop for something ridiculous like 50p each. Could I resist? No.
Michael Jackson -
Thriller
Blondie -
Parallel Lines
Echo And The Bunnymen - Ocean Rain
When I buy an all time classic album on vinyl, second hand, I feel almost guilty for getting away with it. So when I see the album again, i buy it again. Because that somehow makes it ok. I don't know why! It just does. (And it never hurts to have a back up...)
The Prodigy -
Experience
Doves -
The Last Broadcast
Daft Punk -
Homework
and
Discovery
Public Enemy -
It Takes A Nation Of Millions To Hold Us Back
The Beatles -
Revolver
The Beatles -
Red 1962-1966
Frankie Goes To Hollywood -
Welcome To The Pleasuredome
Radiohead -
Kid A
What sort of idiot rebuys a CD album he already has again on vinyl just on the off chance that he might want to play it out on the rare occasions he ever actually DJ's anywhere? That's right! Me!
The KLF -
The White Room
The KLF -
Chill Out
The KLF -
Space
Ah, those cheeky japesters. Yes, The KLF are the artists I collect most obsessively. As you may know, after quitting the music biz by machine gunning the audience at the Brits, and leaving a dead sheep at the after party, Bill and Jimi decided to delete their entire back catalogue. Which makes it rather hard to get hold of. But for some reason, I have 4 different copies of their
White Room
LP (UK CD, US CD, UK LP and the unreleased 'Original Soundtrack' version) all of which are subtly (or in the OST's case, entirely) different.
Chill Out
i had to buy again cos I leant my original American import copy to a girlfriend who then became an ex, and i resisted the urge to claim it back so that she had at least
one
good record in her collection (oooh you bitch, Del). And both the CD and vinyl copies of
Space
are bootlegs. Smart.
I'm not entirely sure what the point of this exercise was, other than perhaps to expose my own obsessiveness, and smugness at my own obsessiveness, but there we go. Thanks!
It's A Kind Of Magic
So it hasn't really been the most productive of weekends, I admit. Saturday was spent recovering from a hangover after falling off the wagon Friday night (wow, my detox lasted a whole week! A new record...) Then I felt poorly after eating what I suspect was some dodgy chicken Saturday night, which then kind of wiped out today. Curses. I had great plans to see cinematic masterpieces (I really want to see
Garden State.
Already heard great reviews, and I love the dude from Scrubs who wrote, directs and stars, Zach Braff. I also love Natalie Portman, but for subtly different reasons. Which is why I also want to see
Closer,
depsite the presence of Owen and Roberts. Law is forgiven because he can at least act, unless we're talking about his American accent in
eXistenZ
. Heheh) and I also had grand shopping plans, mainly around Camden (records), Soho (records) and Covent Garden (records). The best i could manage was some charity shop action down Finchley High St, where I picked up, amongst other treasures, Soft Cell's version of 'You Only Live Twice', which, you'll be delighted to hear, is a bit crap.
So, in a huff, I had to console myself with warm, comforting glow of our big telly. What could possibly lift me out of my gloom? I'll tell you what. Programmes with witches in. What? No, not
The Wizard Of Oz
or Rentaghost
.
I'm talking about a modern take on the whole thing, with young, empowered witches totally kicking evil in the knackers, as well as contending with the trials and tribulations of being a modern, socially responsible woman. I am of course talking about
Charmed
and
Sabrina The Teenage Witch
, two of the greatest television programmes in the history of human civilisation.
Charmed is simply great. From their special version of the Smiths 'How Soon Is Now' for the titles, to the incomprehensible plots, to the replacement of the irritating Shannen Doherty with the delightful Rose MacGowan. Add to that Alyssa Milano and 'the other one' and you've got triple trouble no ugly evil dude would dare mess with if they had any sense. Which they don't. So there's fun and frolicks to be had, which occasionally mean they have to dress up as scantily jungle warriors or scantily clad mermaids or whatever. And they tend to keep the whole soap opera aspect fairly low key, which makes for easy viewing for the uninitiated and, frankly, uninterested. Then there's the wonder that is
Sabrina...
Ah, lovely Sabrina, the 'teenage' witch (which makes me about 12, by my calculations, but hey...) Surely one of the greatest kids programmes ever. And I mean that! Honestly! Here you've got a girl who looks like she's got everything, but look between the lines: life is hard. She has to deal with the fact that she's an outsider being half human half witch, growing up without her parents, having to cope with living with her two batty aunts, and all whilst trying to maintain a normal life with a normal boyfriend. It's totally empowering and inspiring stuff! All this added to the confession that I've secretly fancied Melissa Joan Hart since
Clarissa Explains It All
(I was only 13 at the time, it was ok!) and the fact that, damn it, she
can
act
and
has good comic timing,
AND
there's a talking cat (cat's rule) makes it nigh on perfect no brainer, feeling poorly TV.
I think that all this goes to show that 1. America knows how to make entertaining, no brainer TV and 2. I have a thing for witches. Which is also true for Willow from
Buffy.
And Christina Ricci in
Sleepy Hollow.
And the girls from the band B-Witched who i saw on
TV Years
the other night. Whoops.
Wednesday, January 05, 2005
Preposterous Tales
Rough Trade be praised. I hardly ever buy compilations any more really. The music snob in me doesn't allow it. But I'll make an exception for anything that they put their name to. I bought their
Post Punk Volume 1
compilation a few months back, actually from Rough Trade in Covent Garden, along with some Eno and X Ray Specs, I think. And a Warp compilation. And it changed my whole perspective. It was full of wondrous music from the likes of Gang Of Four, DNA, PiL, Wire, The Futureheads, Chicks on Speed... oh just fucking loads of great bands! The track that made it for me was Life Without Buildings - 'The Leanover', sort of a dreamy stream of conciousness garble from a girl with a voice like a pixie or something, over a melodic backing that just presses all the right buttons. Only released in 2000, but fits in with the whole compilation.
So, when the
Indiepop Volume 1
compilation came out, I picked it up at once, in HMV this time (I had vouchers, forgive me Rough Trade!) Another superb purchase. So good, it should come with an anorak and badge collection. But it goes far beyond such stereotypical styles. It's just magic. Early magic from Jesus and Mary, Primal Scream, PWEI, and loads of less well known bands. The highlight for me is I, Ludicrous's 'Preposterous Tales', which I think was played on one of the Peel tribute shows on Radio 1 before Christmas. It's a difficult song to define really! Like a conversation down the pub with the compulsive liar from Phoenix Nights BUT WITH RECORDS (God, I miss Mark and Lard). Anyway, the long and short of this is that you should go and buy these compilations immediately. As soon as I have enough cash, I'll also be buying the other Rough Trade Shops releases:
Electro
,
Rock N Roll
,
Country
and
Counter Culture 2003
.
The sad reality is that I rarely going into Rough Trade or many of the other marvellous independent record shops in London, simply because I have no self control. I used to regularly piss my loan cheque up the wall at Selectadisc in Nottingham. The temptation to melt down my credit card would be too great in the heaven that is the London stores. It's hard to explain quite what it's like wandering round a record shop as a total junkie. The best description is in Nick Hornby's exemplerary
High Fidelity
(I don't want to be a fan of Nick Hornby, but the simple truth is that this book, and
Fever Pitch
, contain the most truth about what it is like being a bloke like me, in much the same way that I don't really like identifying with Damon Albarn's Blur lyrics, because he's a bit of a dick, but I do.) I sort of end up in this trance, totally immersed in genres, song titles and album sleeves; record labels, limited edition clear vinyl 7 inches and fan club only releases; bootleg repressings, bargain bins and shop assistants who occasionally actually offer assistance. "Scuse me mate, which Nightmares On Wax album do you recommend?" "None of them, they're shit, buy some Aphex Twin." "Er, ok. Thanks."
There's the trailing through well worn shelves of artists and labels that you already own everything by 'just in case' you've missed some live album or bootleg. In the autobiographical
Lost In Music,
Giles Smith talks about the desire to buy your favourite records again, to try and recapture the excitement of first hearing it, wanting to rediscover that buzz. But of couse, you can't, so you have to keep looking. It really is just like a drug, trying to recapture the feeling when you first heard
Revolver
or
Screamadelica
or
Homework
or
Unknown Pleasures
or any other album that changed the whole way you look at the world.
I thought I'd grow out of this particular obsession, but I haven't yet. Maxi Jazz of prog dance Dido inflictors Faithless once said 'This is my church, this is where I heal my hurt.' He was talking about clubbing, but for me it's about record shops. Except 'God is a record shop proprieter' isn't quite as catchy. Which is why I don't like Faithless.
The Rough Trade compilations are released on Mute Records, which is just as well as I can't get the Rough Trade website to work. You can get them in all good record shops, and a fair few crap ones as well I'd imagine. Rough Trade aren't paying me to advertise this, but if they want to, send me an email, and we'll come to some sort of arrangement.
Roads
Well, I did warn you. Armed with my new camera phone, a connector thing I don't fully understand from PC World and a quest for justice, I set about taking photos of things without accidentally photographing people's ankles and being branded a cyberperv or something. Anyway, I'd barely crossed the road before I saw my first crime against civilisation, scrawled across Tottenham Court Road...
As if there isn't enough pressure for us to appear perfect all the time from magazines and TV, without bloody road signs weighing in. Leave us alone, you body facist style nazis! Heheheh. I'm scraping the barrel now. You realise this is only going to get worse...
Tuesday, January 04, 2005
Pulp - 'Do You Remember The First Time?'
Part 10 in an occasional series of rediscovered musical gems.
Yes, I know I had a song by Pulp as a rediscovered gem only a few weeks. And yes, I know it was 'Babies' which is taken from
His n Hers,
the same album that's home to this track. The song was also on my first CD compilation ever bought,
Shine,
which I've also already waxed lyrical about here. I don't care. No other band seem to have the ability to reach through the fabric of space and time to wrench back to some imaginary, glamourous and tragic, sublime and heartbroken time in an adolescence I think I dreamed rather than actually experienced. It hits me in the heart, the head and in the guts, stirring up emotions of longing, obsession and the kind of butterflies you only get with your teenage crushes. It's know that's not what the song's about, but it's what Pulp will also be to me. This is the 3rd gem on my list that Mr Cocker has written, out of only 10. Jarvis should be given a bloody Knighthood.
Monday, January 03, 2005
She's So Techno
As we sail silently through the darkest month, I urge you to check out the really rather wonderful electro techno ambient loveliness of
The Vector Warrior
. Lots of Mp3's to download for free, my favourite of which has to be 'Raul', which is one of the most sublime things I've heard since u-ziq's 'Hasty Boom Alert', but there are plenty of other gems to be had. Get em quick before a smart record company like Warp signs him up.
Hug My Soul
Now this, ladies and gentlemen, is what the internet is all about.
Group Hug
, where you can post your deepest, darkest secrets completely anonymously, safe in the knowledge noone will know it's you, but you've released whatever's been haunting you. Some of the confessions are terrible, disgusting and shocking, but many others are painfully sweet, endearing and sometimes sad. Even more are just laugh out loud funny. You'll be disappointed to hear that I haven't posted anything up there as yet (yeah, cos I'm stupid enough to link and post on the same day), but I'm sure I will in future. Enjoy!
You're Gorgeous
Firstly, I trust you all had a happy new year. And if not, then I hope you got a few drinks in to get you through the night. Mine was rather good, actually. In Manchester. Pissed it down on the way home though. And i lost several quid trying to win a stuffed Shrek on one of those grabby hand things in an amusement arcade at a random service station on the M6. Why? I have no idea. I was hungover. Anyway, I hope that 2005 brings you wealth, love, happiness, health and peace. It's going to be a good year, I've got a feeling in my bones.
Anyway, enough of that glib rubbish. I've got a new phone! Basically my old one stopped working properly, the main problem being that the alarm function broke, which is about as disastrous as you can get. If it weren't for that horrendous bleeping sound every morning, I wouldn't be in work for very long. So i phoned my
lovely phone company
and moaned until they sent me a new one with gizmos on to keep me happy and shut me up. Oh yes, this new thing that is currently grilling my backside behind me has a camera on it. So as soon as I've worked out a way of plugging it into my PC, I'm sure i'll be posting up many amusing pictures of things that have brightened up my day. You have been warned.
That said, I promise not to post up pictures of my own shit, like the ones my good friend Chris insisted on showing me the other day. "It looks like it's got a halo, but it's just the reflection of the metal bowl on Virgin trains." "Brings a whole new meaning to Holy crap."
Cool! The theme from Terrahawks has just come on my random Winamp playlist. All i can remember about it is that it looked like Thunderbirds, with all the puppets camping it up to the max and waggling their heads like David Gray with whiplash and lots of weird square and circular robot head things like this:

I haven't seen it since the 80's, but if it's anything like Thunderbirds or Stingray, on second viewing, it will no doubt be crushingly disappointing and, essentially, a load of crap. Come on, be honest. They were all rubbish. Great theme tune though.
All opinions expressed within the pages and comments of this blog are solely those of the author, and not of his employers or associates. If you have any complaints, corrections or queries regarding any of the material contained within, please contact the author via
email
. Thanks for reading!