Tuesday, October 31, 2006
Un Autre Introduction
Oooh hello!
Yes, I feel it's been all too long since we had a bit of a chat about what this whole thing is all about, really. So, to anyone who's new, or feels like they've been here too long to bring it up without looking silly, this is Delrico Bandito and the Mexican Gunslingers, my weblog. It is a silly name I made up as a tribute to Herb Alpert and Tijuana Brass. I write from my flat which is buried deep under North London. Hello. Thank you for reading this far.
My excuse for setting this blog up in the first place was as an outlet for the frustrated music journalist that lives inside me. As such, I mostly write about music and other culturally enriching things, as well as amusing stories about things that have happened to me that won't result in me being sacked or my family disowning me. I made what some might consider to be a mistake by not making this an anonymous type blog, but I find it rather a good way of curbing my worst excesses (of which there are many). However, I will tell you that I am a boy who is currently single and straight*. I was born in the twilight of 1979 in Watford, and went to university in Nottingham and now work in central London in the media, pressing buttons and eating Haribo.
My favourite colour is red. My lucky number is 17. I am a Capricorn. My favourite Star Wars film is
The Empire Strikes Back
. My favourite ice cream flavour is chocolate. I have never drunk a cup of coffee or smoked a cigarette, but I do like a drink now and again.
If you cast your eyes down the right hand side, you can see that I'm self important enough to have both a
Myspace
and a
LastFM
profile, so you can see who I've been sexpesting, and what music I've been listening to while I do it. You can also check out
my website
, which is basically a link to this thing and to my alter ego as a mash up artiste. Below that is a list of my favouritest blogs in the world. They are all dead good. If you'd like to join the list, just let me know, and I'll speak to my people.
Then there's the archive, including my
Hidden Gems and Guilty Pleasures
. The Hidden Gems are some very special songs that I feel have been overlooked The phrase Guilty Pleasures has exploded in use since I first used it here two years go, so that's self explanatory really. I've recently added YouTube videos where available to each of my choices, so you can actually hear the songs as I witter on about them like an NME hack who's lost the will to live after being exposed to Babyshambles for far too long, and feels a deadline looming.
Anyway, that's about it really. I'm forever grateful for anyone who actually reads this. There's nothing more comforting than screaming into the void and hearing something other than your own voice coming back. Do tell me about yourself in that there comment box, especially if you're one of those lurker types who never says anything. I can't trace who you are so do feel free to go crazy. Or alternatively, feel free to ask me about anything. I don't do posts just about me all that often, so I rather fancing being a bit self indulgent...
*I'm aware that I've left that statement intriguingly ambiguous. I like my gay readership to live in hope/fear.
And for those mercilessly bullied into coming here by the delightful Betty can find the sorry tale of my exploding toilet here.
Wednesday, October 25, 2006
Spiritualized - 'Stop Your Crying'
Part 17 in a severely lapsed series of rediscovered gems
Just over a year ago, I
mentioned here
how Jason Pierce of
Spiritualized
was very very ill. I was really quite concerned and upset by this. Spiritualized have been one of those bands that in their own little way, brightened up my world when I most needed them to. The prospect of one of my musical idols passing was a hugely sad one.
So it is with genuine delight that I can tell you he is now fully healed and back on the live circuit. I haven't had the good fortune to catch any of his recent live performances as yet (although there's still tickets available for Edinburgh... Hi Steve!), but the fact that they're happening at all is a reason for celebration. I simply can't wait for their new material. But in the meantime, there's a library of great songs from Spacemen 3 and Spiritualized to raid. For this
Hidden Gem
, I've chosen the lead single from what I think is one of the band's more underated efforts,
Let It Come Down
, which had the misfortune to follow their masterpiece and defining moment
Ladies And Gentlemen We Are Floating In Space
, and as such could never compete (even with me: the latter is the album I lost my virginity to. So now you know). On it's own terms,
Let It Come Down
is a wonderful record.
'Stop Your Crying' is everything you want from Spiritualized. Raw emotion mixed with symphonic epic production, contrasting Pierce's delicate vocals with a gospel choir backing. It almost tips over into self parody, but the strength of the song overcomes any obstacles. I remember when the single first came out, and i just played it over and over and over until I felt every single second of it flowing through me. But the song took on a whole new dimension when viewed with it's accompanying video, which has to be one of the most strangely moving things I've ever seen. Watch it below, right to the end. Please, believe me, it is worth watching all the way. It gives me chills just thinking about it. And if you like the song, go and get the album. The tinny youtube audio just doesn't do it any justice...
Monday, October 23, 2006
Beetlebum
Over at the venerable
Art Of Noise
blog, there's something of a kerfuffle. Yes, the brand new feature that's causing a bit of a stir is
In The Dock
, where each week two bloggers debate musical matters. This week I have stepped forward to defend The Beatles from the textual onslaught of the evil Lord Bargain, who doesn't like them. The cad! Yes, I somehow managed to come up with a few reasons why the most popular and influential band in the history of music should be regarded as such. See how I managed this act of mercurial genius over at
The Art Of Noise
now. Or when you've got a spare five minutes, it's no skin off my nose, to be quite honest.
To commemorate the occasion, I'm going to attempt to give you my Top 10 favourite Beatles songs ever. Not the easiest task, as I have in my possession more or less everything they've ever released. So in no particular order I give you...
1. 'Dear Prudence' from
The White Album
2. 'Rain' from the B Side of 'Paperback Writer' (Available on
Past Masters Vol. 2
)
3. 'Eleanor Rigby' from
Revolver
4. 'You Never Give Me Your Money' from
Abbey Road
5. 'A Hard Day's Night' from
A Hard Day's Night
. Duh.
6. 'Get Back' from
Let It Be
7. 'Blackbird' from
The White Album
8. 'Long, Long, Long' from
The White Album
9. 'She Said She Said' from
Revolver
10. 'A Day In The Life' from
Sgt Pepper's Lonely Hearts Club Band
So there we go. Do you like them there Beatles? What's your favourite song?
Sunday, October 22, 2006
Immigrant Song
BBC Four, everyone's favourite slob snob network, has excelled itself of late with Jack Dee's new comedy Lead Balloon. It is dead funny, so it is. Like some brilliant cross between Curb Your Enthusiasm and a middle aged One Foot In The Grave, it is an absolute treat. Jack Dee is fantastic, but the rest of the cast are just perfect. My favourites are his daughter and her boyfriend, both refreshing takes on the money grabbing teenager stereotype. This is why I like the programme so much, and why I think it will go on to be huge. There's nothing desperately new here, but it's just so wonderfully well written and performed that it rises above other lame sitcoms like the golden condor in the opening titles to the Mysterious Cities Of Gold. It really is that good.
And look! You can watch all the episodes online! Right now! Go on, click
here
. You won't be missing anything from me in the meantime. I've got my feet up on the desk eating Jaffa Cakes watching pumas on Planet Earth. I'm set for the evening.
Get in on the ground floor, my friends, before it hits BBC Two and you lose the smug bastard 'I saw it first' factor.
Sunday, October 15, 2006
Lost In Music
Sunday mornings don't start much better than turning on your brand new personal DAB digital radio as you walk to the tube, to find 1xtra playing Sister Sledge's 'Thinking Of You'...
And the things you do,
That make me love you.
Praise this weekend also goes to Hitchcock's
Vertigo
,
Best In Show,
The Smiths
Singles
Collection, 'The Culture Show' on BBC Two, 'Wide Sargasso Sea' and 'Lead Balloon' on BBC Four, Cinematic Orchestra's
Man With A Movie Camera,
'The Observer Music Monthly' edited by Jarvis Cocker, Radio 1 and Xfm in the wee small hours, Charlie Brooker's
Screenburn
column collection, Stuart Maconie on 6Music and the Thin White Duke and Lindbergh Palace remixes of The Killers' 'When You Were Young'.
I feel vaguely human again. I feel ready for Monday...
Come On! Feel The Illinoise!
Put Sufjan Stevens on
and we'll play your favorite song
'Chicago' bursts to life and your
sweet smile remembers you...

Snow Patrol - 'Hands Open'
When other artists starting singing songs about your song, you can be sure you've created something truly special!
Thursday, October 12, 2006
Wish You Were Here
So, so you think you can tell Heaven from Hell,
Blue skies from pain.
Can you tell a green field from a cold steel rail?
A smile from a veil?
Do you think you can tell?
And did they get you to trade your heroes for ghosts?
Hot ashes for trees?
Hot air for a cool breeze?
Cold comfort for change?
And did you exchange a walk on part in the war for a lead role in a cage?
How I wish, how I wish you were here.
We're just two lost souls swimming in a fish bowl, year after year,
Running over the same old ground.
What have you found? The same old fears.
Wish you were here.

Tuesday, October 10, 2006
Friday On My Mind
"Come to my party on Friday night" my friend says "It's my birthday. I've reserved the upstairs of a bar round the corner, and we can play our own music. Can you do me a CD?"
A damsel in distress! How could I refuse? Impossible. So I dilligently make a nice compilation full of great tunes, lots of bang up to date treats and not so much cheese as to cause her trendmongous friends indigestion. Got properly in the mix, got my groove on big time Thursday night. But when I turned up, there wasn't really any need for the mix CD. The music from the bar below was more than satisfactory, and there wasn't enough space to dance. I handed it over, naturally, but didn't push it. It sat on the table, nestled between mojitos and spent packs of Marlboro Lights, destined to become nothing more than a glorified beer mat. Ho hum.
But... well, seems a bit of a waste, really, dunnit? And more to the point, there's an ego shortfall on my part. I put the work in, and yet receive nothing back. I mean I wasn't expecting orgiastic dancing on a biblical scale. All I ask for is just the odd nod of approval, a murmur of contentment, a smile of recognition, to satisfy my craving for a job well done. What to do, dear reader, what to do?
And then it dawned on me! Yes, of course! A new Delrico Bandito podcast! A treat for you, second hand granted, but with the dirt and beer brushed off and buffed up til it shines like a gem. You all know the score. Tracklisting hidden away in the comments box, lest I be overun by thieving pixies. Lots of my current faves with a couple of classics, all mixed up with a big music spoon. "Eat me!" It cries. It's already been rejected once. Twice could break it's little heart forever. Don't be cruel, and give it a good home.
....sorry too late, long gone.
PS. And if you liked that, lovely Annie
Slaminsky
has just put a great podcast up on her blog, which is, I know, almost unbelievably, possibly, just as good as mine. Maybe even better. But let's not go nuts. Get it
here
.
Sunday, October 08, 2006
Come Out 2 Nite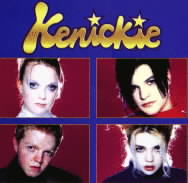 P-U-N-K-A... Punka!
Lo fi songs are great!
A hickie from Kenickie is like a Hallmark card.
Tuesday, October 03, 2006
Don't You (Forget About Me)
There is currently an aspirational shortfall in my life. Essentially, the difference between what I want my life to be, and the rather irritating reality that I seem to end up with. And most of it is entirely my fault. Obviously.
Example: This evening, I had planned to do the following:
Go to the gym.
Do a linen wash.
Do the washing up.
Fold and put away big pile of clean clothes.
Maybe even iron some of them(!)
Take out the rubbish.
Tidy up and file away records.
But what I
actually
did was the following:
Went shopping and bought several DVDs I don't need and probably can't afford.
Watched one of those DVDs,
The Breakfast Club
, whilst laying on my beanbag eating chocolate.
Spent rather too long dreamily thinking too hard about the emotional issues raised in
The Breakfast Club.
A film about teenagers.
I am 26.
Spent rather too long dreamily thinking too hard about Ally Sheedy in
The Breakfast Club
.
Chatted to friends online and via text.
Well, when I say "chatted", basically exchanged insults across hundreds of miles. Technology, eh?
Had a full on superstar DJ mixing session, meaning I got more records off the shelves and spread them all over the floor.
Banged my head on a light fitting, whilst jumping around to Frankie Goes To Hollywood. In my pants.
Nuts.
The Windmills Of Your Mind
I haven't done a lovely list of lovely tracks spinning round my head like windmills in a whirlwind for quite some time. So here we go...

1. Fleetwood Mac - 'Everywhere'. (Still...)
2. Smashing Pumpkins - 'Zero'. (Dundurdundurdundundun!)
3. Crowded House - 'Distant Sun'. (Sigh.)
4. The Rapture - 'Whoo! Alright - Yeah... Uh-Huh" (Best song title ever)
5. Michael Gray Feat. Shelley Poole - 'Borderline' (Funky!)
6. DJ Shadow Feat. The Federation & Animaniaks - 'Turf Dancing' (Expectation beating)
7. The Beatles - 'Get Back' (Jojo!)
8. Tommy McCook & The Supersonics - 'Reggae Merengue' (Lily who?)
9. Kanye West Feat Jamie Foxx - 'Golddigga (High Contrast Remix)' (Boom!)
10. Jarvis Cocker - 'Cunts Are Still Running The World' (They sure are. Never change, Jarvis.)

Monday, October 02, 2006
Smile
Are you fan of Lily Allen? Hell yes? No way? No, dear Lord, no no no no no?
Well, I'm not. In fact, I'd rather operate heavy machinery in the nude. But I must confess to guiltily humming along to her singles as they waft across the airwaves like a Topshop gypsy skirt. The shame! Mercifully, the good good people over at
music like dirt
have gathered up some of the tracks our Lily has cheekily sampled, and stuck them in a nice zip file of mp3s for you to download and enjoy. For free!
Cool!
All manner of treats in there, including the original reggae backing tracks for 'Smile' and 'LDN' that you can now enjoy without Lil's half arsed simpering over the top. Bargain! There's 50 Cent in there too, but you can't have everything can you? More than made up for by the inclusion of stone-cold drum n bass classic 'Valley Of The Shadows' by Origin Unknown. One of the records that took my brain and squished it into brand new exciting shapes a decade ago. Still sounds utterly unique. And that's just the tip of the iceberg.
Check it out
. Now. I doubt it'll be there desperately long, knowhatimean? Say no more. Luvly jubbly.
Sunday, October 01, 2006
Devil Woman
How to start off a night on the town on the wrong foot...
Uh-oh. No wonder I'm so hungover today. It was the cloakroom ticket!
All opinions expressed within the pages and comments of this blog are solely those of the author, and not of his employers or associates. If you have any complaints, corrections or queries regarding any of the material contained within, please contact the author via
email
. Thanks for reading!