Friday, December 07, 2007
I Hear A New World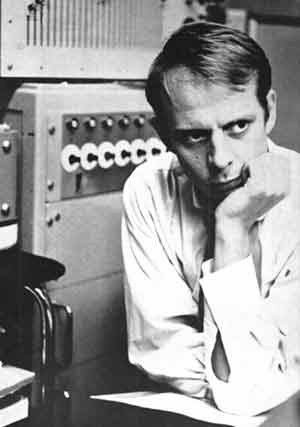 So I gets home from seeing the exquisite Final Cut of Sci Fi noir classic
Blade Runner
, and find that
Karlheinz Stockhausen
has died
.
Now, it's a bit strange eulogising on a composer who's music I've never really listened to. In fact, it's ironic that I've read far far more about him than I'm ever likely to hear. But quite simply, without Stockhausen, electronic music in all it's forms wouldn't be what it is today. The techniques he pioneered have left subtle fingerprints on almost every record in my collection. (Yes, perhaps even those by The White Stripes, recorded on gaffer tape in a shed with a bucket, a spade and some string.)
I guess he's like the Stephen Hawking of music. I don't get most of Hawking's theories, but by crikey do I ever respect the guy. And as complex or unreachable as Stockhausen's early electronic experimentation sounds, it has slowly filtered through music, lending it's influence to The Beatles, Kraftwerk, David Bowie, Brian Eno, et al, and from then on to the rest of the world of sound we so merrily skip through. Plus, I have a soft spot for a bit of the avant garde, mainly cos it makes me feel cleverer than I actually am.
But most of all, without Stockhausen, it's likely there would never have been the greatest Christmas Number One of all time: The Human League's 'Don't You Want Me'. And that, dear reader, simply doesn't bear thinking about.
All opinions expressed within the pages and comments of this blog are solely those of the author, and not of his employers or associates. If you have any complaints, corrections or queries regarding any of the material contained within, please contact the author via
email
. Thanks for reading!