Sunday, December 30, 2007
Kevin Greening 1962-2007
Very sad news today that former Radio 1 DJ Kevin Greening died in his sleep last night. He was a great DJ on air, but also a great bloke in real life. Warm, friendly, and always supportive of student radio, where I came from. For most people he was just the bloke who helped Zoe Ball on the Radio 1 Breakfast show, but for those who are as obsessed with radio as I am, he was always acknowledged as a genuinely brilliant presenter. Always entertaining, whichever station he was on. He'll be sadly missed.
You can read the full story, and the BBC's obituary
here
. And my good friend Neil gives his tribute
here
.
Saturday, December 29, 2007
Best Of You
Hello! Good Christmas? You're still looking suitably festive. Hope you had a lovely time. I certainly did. Anyway, another year older and just a couple of days til the end of the year. Maybe we should take a look back. Yes, that's right, it's time for...
Lights! Fanfare! Dancers! Orchestra! Choir! Fireworks!
Delrico Bandito's Singles of the Year 2007!
Anyway, no poncing about with themed categories, or some huge long list or whatever. Here's the Top 10. In customary reverse order, naturally...
10. Robyn - 'Konichiwa Bitches'
Strange that the closest thing to a hip hop flavoured record on this list comes from a Swedish pop princess. But it does. Any song that both rips off The Cure's 'Close To Me' and contains the line "See you next Tuesday, you is a punk!" spat with venom by a blonde Scandinavian is always going to get the thumbs up from me.
9. Biffy Clyro - 'Living Is A Problem Because Everything Dies'
At last! At last! A British rock band that combine honest emotional pure pop songwriting with a shitload of noise. I've kept up with Biffy for a while now, but this year they really went for the prize and got it, completely. Amazing live, the album is storming, five stunning singles. This is the best.
8. DJ Mehdi - 'Signature (Thomas Bangalter Remix)'
This slice of French House (of course) feels like being whalloped round the back of the head with a granite sledgehammer. Repeatedly. Mind numbing in a profoundly good way. Noise, distortion and repetition as pure artistic dancefloor perfection.
7. Kate Nash - 'Foundations'
...and this is the one some people will turn their nose up at. Ultimately, there's lots to dislike here. But see past the stage school diction and twee lyrics and there is a classic underneath. The chorus is just HUGE. It manages to be both angry and petty, and poignant and heartbreaking. It perfectly sums up the feeling of clinging on to a relationship that's falling to pieces. Apparently...
6. Klaxons - 'Golden Skans'
I wasn't sure. I really wasn't. You see, that's the trouble with a band that's hyped to the stratosphere. You read about them first. Then you hear them, and you think "Is that it?" Then they released this, and it all just clicked into place. A proper pop song. And a real belter. Turned them from flavour of the month to one of the bands of the year.
5. My Chemical Romance - 'Teenagers'
Was this on last year's list? Oh well. It got released this year properly, so here it is again. The band who can do no wrong in my eyes. Emo goth comedy camp cabaret that made me wish I was 15 again. Well... for a bit anyway. Darkened my clothes. Dyed my hair black. Painted my nails. Applied my eyeliner and hit the town. Hey, Gerard's 30. If he can get away with it, so can I...
4. Bloc Party - 'Flux'
I was all ready to put 'The Prayer' in my Top 10 singles of the year. An astounding record that perfectly evokes the restless excitement in the lead up to a night out on London's dog eat dog social scene. Then the bastards go and released 'Flux', which blows everything else they've done this year out of the water. Hearing it on the radio felt like receiving a transmission from another planet. Extraordinary. Singles band of the year, without question.
3. LCD Soundsystem - 'North American Scum'
Oh, wonderful brilliant amazing genius! Who else could sum up what it is to be American, and yet also a jolly nice chap, in these confused and crazy times? And which such wit and verve and knowing intelligence, whilst also being completely danceable and singable and ecstatic. James Murphy just makes it happen, and it seems utterly effortless. Quite simply this is the record I've most enjoyed playing out and dancing to this year.
1. Justice - 'D.A.N.C.E.'
Just a relentless brilliant blast of funked up noise that breaks all the rules, but is completely irresistible. Like being battered round the face with a kid's teddy bear. I think. A record that needs no explanation, that only makes sense when you move along to it. It's about nothing but the desire to dance. Don't think. Just dance.
Also

1. Bright Eyes - 'Hot Knives'

"Oh I've made love, yeah I've been fucked... so what?"
The lyric of the year and the most life affirming record I've heard for a very long time. It's about love and death and reality and the metaphysical and escape and survival and reinvention, all wrapped up in Conor Oberst's shattered vocals. The backing is just sheer wondrous perfection. I can't describe how much I love this record, and how much I needed it this year.
And so... that's the Top 10 singles. I love these records! I really do. There'll be lists of albums and movies and stuff like that to come, but this is the big one.
Here's some of my blog friends who've posted their favourites so far. I'll add to this as more appear. If you want a link, just let me know...
Betty's Singles Of The Year
Lord Bargain's Singles Of The Year
Lord Bargain and Swiss Toni's Albums of the Year
GirlonaTrain's Best Of 2007
Paula's Tracks of the Year
Karinki's Singles
and
Albums Of The Year
Neil's Singles Of Year
Silent Words Speak Loudest's Singles
and
Live Shows of the Year
Stevious's 2007 Questions
SwissToni's Earworms of 2007
Troubled Diva's Albums
and
Singles of 2007
..and if you don't have a blog, or a list, let me know what's rocked your world in the comment box. Especially if it's completely different to what I've posted!
Happy New Year. Thanks for reading x
Monday, December 17, 2007
All I Want For Christmas Is You
My festive podcast gift to you! My 2007 Christmas compilation, as lovely labelled mp3s for you to enjoy. Perfect listening for yuletide gatherings or turkey stuffing sessions. I've tried to avoid the obvious seasonal hits, whilst also including some genuine leftfield favourites of mine. (Too late, but it may well return next year...)
(And as many of the songs originate from charity CDs, perhaps make a small donation to War Child or Crisis. Thanks.)
However, not part of the mix is Malcolm Middleton's brilliant
'We're All Going To Die'
. Because I want you to buy it. It's out this week. Please get it from a shop or iTunes or something, and at least try to stop X Factor being Christmas Number One
again
. I've already got my copy. Roar, indie-nation, roar!
You can make it happen. It's only 2 quid in HMV. Bargain!
Anyway, Happy Christmas one and all! War is over if you want it. Have a peaceful New Year.
Sunday, December 09, 2007
French Film Blurred
So, just a short Sunday post tonight. Saw
The Golden Compass
this evening, which I must confess to being a little disappointed by. I haven't read the
His Dark Materials
books yet, but ironically the somewhat lacklustre movie has inspired me to go back to the source material. It's clear there's some fascinating ideas going on, they just haven't been translated to the movie screen very well. But it's good in places, and it looks gorgeous and is tremendously well cast (Eva Green fulfils both of those qualities on her own. There's something about her cutglass English accent, delicately tainted by the subtlty of her French delivery, that has this student of linguistics utterly bewitched. Sigh... Anyway, that's quite enough of that, thank you.)
Right, back to business. We haven't had a top 10 for a bit have we? Poor show. Let's spoil ourselves with a Top 15. Just so long as it's our little secret...
1. The National - 'Fake Empire' (and to be honest, the rest of their superb
Boxer
LP)
2. LCD Soundsystem - 'Losing My Edge'
3. The Art Of Noise - 'Moments In Love'
4. The Notwist - 'One With The Freaks'
5. Archigram - 'Doggystyle'
6. Wire -
Chairs Missing
LP
7. Dinosaur Jr - 'Just Like Heaven'
8. Beethoven - 'Symphony No.6'
9. Elbow - 'Teardrop'
10. Paramore - 'Crush Crush'
11. Queens Of The Stoneage - 'Make It Wit Chu'
12. Kenickie - 'I Would Fix You'
13. Girls Aloud - 'Call The Shots'
14. Malcolm Middleton - 'We're All Gonna Die'
15. Fall Out Boy - 'Love Will Tear Us Apart'
The final track is far better than it has any right to be. Ok, so our Patrick just bellows the chorus, but the verses are genuinely affecting, and the acoustic backing works. Simple as that really.
You feeling Christmassy yet? I am. More on that to come no doubt...
Melody Day
The brilliant Shuffleathon selection that Steve made me is now available podcast style from his blog.
So go get it
.
I'm very much aware I haven't podcasted myself for a long time. But I will soon, honest.
Friday, December 07, 2007
I Hear A New World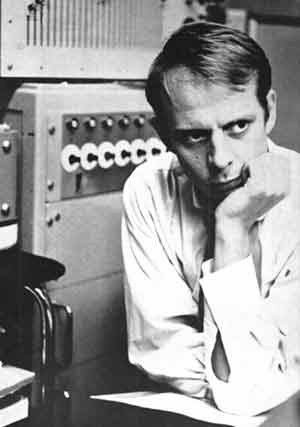 So I gets home from seeing the exquisite Final Cut of Sci Fi noir classic
Blade Runner
, and find that
Karlheinz Stockhausen
has died
.
Now, it's a bit strange eulogising on a composer who's music I've never really listened to. In fact, it's ironic that I've read far far more about him than I'm ever likely to hear. But quite simply, without Stockhausen, electronic music in all it's forms wouldn't be what it is today. The techniques he pioneered have left subtle fingerprints on almost every record in my collection. (Yes, perhaps even those by The White Stripes, recorded on gaffer tape in a shed with a bucket, a spade and some string.)
I guess he's like the Stephen Hawking of music. I don't get most of Hawking's theories, but by crikey do I ever respect the guy. And as complex or unreachable as Stockhausen's early electronic experimentation sounds, it has slowly filtered through music, lending it's influence to The Beatles, Kraftwerk, David Bowie, Brian Eno, et al, and from then on to the rest of the world of sound we so merrily skip through. Plus, I have a soft spot for a bit of the avant garde, mainly cos it makes me feel cleverer than I actually am.
But most of all, without Stockhausen, it's likely there would never have been the greatest Christmas Number One of all time: The Human League's 'Don't You Want Me'. And that, dear reader, simply doesn't bear thinking about.
All opinions expressed within the pages and comments of this blog are solely those of the author, and not of his employers or associates. If you have any complaints, corrections or queries regarding any of the material contained within, please contact the author via
email
. Thanks for reading!