Sunday, May 18, 2008
Keep Your Dreams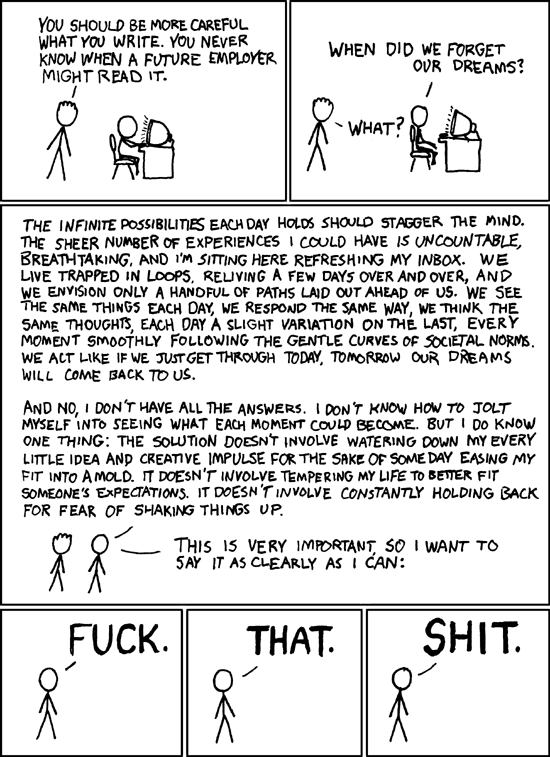 Thanks to Steve and Claire who both mentioned this wonderful webcomic to me on the same day, in a strange act of synchronicity. Not that I'm sure I actually believe in synchronicity. Anyway.
Keep your dreams, don't sell your soul
.
So yesterday I went to the hairdressers and got them to stick red bits in my hair. I've wanted to do something like it since I was a kid (I experimented with spray on dye in my teens, and again more recently when I sprayed it black to go
emo for a night
), but I never did it permanently. At uni I regularly shaved all my hair off to try and make myself look a bit older. Now it's grown out cos I want to look younger! I toyed with the idea when I was going out with the ex, cos she often did crazycool things with her hair, but I never got round to it. And when we split, I decided I couldn't do it
then
because people would think I was only doing it cos I'd been dumped or whatever. So, with the sun finally appearing and a plethora of music festivals coming up, I thought now was the right time. And back we go to the hairdressers...
"So, what were you thinking of?"
"Um. I don't know really. I've never dyed my hair before. I just want red bits in it. You know. Sort of mixed in with my normal hair colour, here and there. I think."
"Riiight, ok. Here are some of the natural red shades we've got..." She shows me various auburn tones.
"No, I mean red red. Pillbox red. Like this!" I point to the bracelet I bought at Radio 1's Big Weekend the Saturday before for a pound. The bracelet that leaves red rings around my wrist every time I wear it, like I've suffered a particularly savage chinese burn.
"Ah, ok. Are you sure? I mean, we have fashion colours like this..." She flicks to the page with various garishly bright colours that just scream late-20's crisis to me. Now we're talking. Amongst them is
red
red.
"Yes! Perfect! That one! Definitely!"
"Er, are you sure?"
"Yes, definitely!"
"Really?"
"Yes!!"
And so, after she checked several more times that I was
absolutely sure
I really wanted to go through with it, she did all the painting and foiling jazz. And I was just sat their grinning, like an idiot. AND IT LOOKS SO COOL!
So glad I went for it. This is going to be an interesting week!
Seeing Spiritualized on Tuesday, and I get a little ripple of excitement going down my spine every time I think about it. One of my all time favourite bands. And the new single sounds just perfect. Yay!
All opinions expressed within the pages and comments of this blog are solely those of the author, and not of his employers or associates. If you have any complaints, corrections or queries regarding any of the material contained within, please contact the author via
email
. Thanks for reading!