Wednesday, November 19, 2008
Song For The Asking
Time to blatantly rip of the wonderful
xkcd.com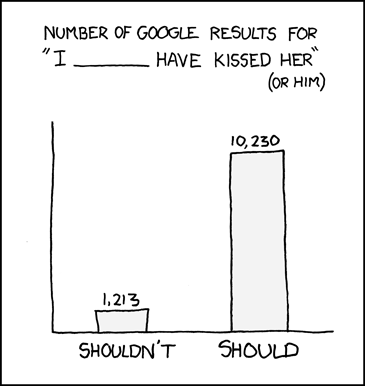 Ok, sure, iTunes has it's flaws. But it's fast at searching through your music for you. Here are some things I deduced from chucking random words into the song search...
Love - 429 Songs
Hate - 20 Songs
Sex - 28 Songs
Fuck - 24 Songs
Girl - 124 Songs
Boy - 78 Songs
Heart - 94 Songs
Soul - 51 Songs
Black - 56 Songs
White - 44 Songs
Life - 110 Songs
Death - 26 Songs
Search - 4 Songs
Answer - 2 Songs
I see the patterns. But what do they all mean?
(PS Thanks to whoever sent me their Shuffleathon CD. Superfast! I will post a proper review very soon...)
All opinions expressed within the pages and comments of this blog are solely those of the author, and not of his employers or associates. If you have any complaints, corrections or queries regarding any of the material contained within, please contact the author via
email
. Thanks for reading!