Monday, May 26, 2008
Take Me To The Other Side
So, last week, I saw Spiritualized.
And -oh- what a life affirming, soul nourishing, wonderful, magical, spine tinglingly fantastic night it was. Spiritualized are one of those bands that mean something deep to me. There's just something special about them. The themes Jason Pierce writes about... Love. Drugs. God. Death... They could so easily sound clunky and trite. It's the indication of true genius that they don't. In fact, they sound sublime. I use the word genius too often, but it feels like you're in the presence of a genuine musical visionary.
Spiritualized, and Pierce's earlier band Spacemen 3, have never been shy in referencing their own personal heroes: The Velvet Underground, Suicide, The MC5, The Rolling Stones (when they were good), and so on... But tonight, it feels like watching a band that wouldn't be out of place in that hallowed list. There's something out of time about them. In a world of flipchart indie (not my phrase sadly, but you know, immediately, what I mean) Spiritualized feel timeless and legendary. Not in a dadrock way. There's supreme musicianship, and earnest soulful lyrics, sure, but a degree of emotional depth and aural anarchy that makes them so unique.
Maybe it's the drugs, maybe it's the heartbreak (dumped for Richard Ashcroft?! Ouch!), maybe it's the near death experience. Or maybe it's just the fact he's been around for so long. But J Spaceman seems completely real and yet utterly untouchable onstage. For one of the few times in my life, I am completely mesmerised. The band don't put a foot wrong. There's a mixture of tunes, old and new. Tellingly, new single,
'Soul Of Fire'
is almost impossibly moving. The Spacemen 3 songs sound as fresh as the more recent Spiritualized stuff. The only complaint I could have is that they could've played for another 3 or 4 hours and I would've wanted more.
Throughout, Jason barely acknowledges the audience, remaining enigmatic til the end... but with the closer
'Lord Can You Hear Me?'
ringing in our ears, the crowd goes absolutely crazy. Jason applauds the backing singers, applauds the audience, and the emotion on his face is plain to see. I almost blub like a baby. I mean, come on,
the guy nearly

died
! Anyway, enough eulogising. Put simply, this was quite comfortably one of the best gigs I've ever been to.
I've heard Spiritualized can be hit and miss live. Appropriately enough, you can chalk this up as a HIT. Can't wait to see them at Glastonbury.
Flower Girl
It's been a mad week and bank holiday weekend. As I always say the irony of this blog is that the more going on to write about, the less time I actually have to write about it. My Spiritualized gig write up is almost done. But mentions must also go to Florence and the Machine who were superb supporting a rather haphazard, but occasionally brilliant MGMT at the Astoria. Will it be the last gig I see there? Sniff. I hope not. It was the scene of my first ever London concert in 1996 when I travelled the length of the Met line to see Placebo in their prime. And I used to love hearing my grandmother's memories of her and my grandad dancing there before the war. Let's pray for more reprieves.
The weekend was spent making movies, voting for the French, running through the storm, meeting new friends, reuniting with old ones and listening to music. Here's a Top 10 for a rainy bank holiday weekend. Hope you had fun, whatever the weather.
1. Spiritualized - Shine A Light
2. MGMT - Kids
3. The Velvet Underground - Rock & Roll
4. Low - Lord Can You Hear Me?
5. Florence And The Machine - Kiss With A Fist
6. Death Cab For Cutie - I Will Possess Your Heart
7. Mogwai - Honey
8. Sebastien Tellier - Divine
9. Sigur Rós - Hljómalind
10. Spacemen 3 - Take Me To The Other Side
Monday nights that feel like Sunday nights are sometimes the best.
Sunday, May 18, 2008
Keep Your Dreams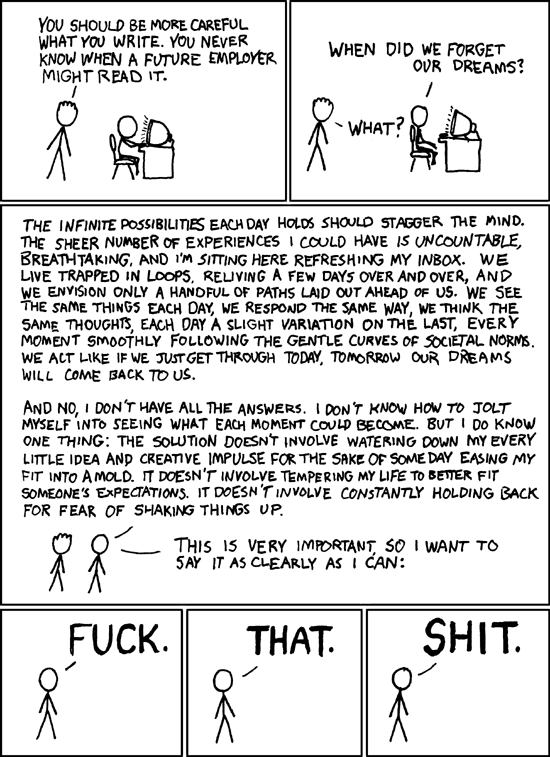 Thanks to Steve and Claire who both mentioned this wonderful webcomic to me on the same day, in a strange act of synchronicity. Not that I'm sure I actually believe in synchronicity. Anyway.
Keep your dreams, don't sell your soul
.
So yesterday I went to the hairdressers and got them to stick red bits in my hair. I've wanted to do something like it since I was a kid (I experimented with spray on dye in my teens, and again more recently when I sprayed it black to go
emo for a night
), but I never did it permanently. At uni I regularly shaved all my hair off to try and make myself look a bit older. Now it's grown out cos I want to look younger! I toyed with the idea when I was going out with the ex, cos she often did crazycool things with her hair, but I never got round to it. And when we split, I decided I couldn't do it
then
because people would think I was only doing it cos I'd been dumped or whatever. So, with the sun finally appearing and a plethora of music festivals coming up, I thought now was the right time. And back we go to the hairdressers...
"So, what were you thinking of?"
"Um. I don't know really. I've never dyed my hair before. I just want red bits in it. You know. Sort of mixed in with my normal hair colour, here and there. I think."
"Riiight, ok. Here are some of the natural red shades we've got..." She shows me various auburn tones.
"No, I mean red red. Pillbox red. Like this!" I point to the bracelet I bought at Radio 1's Big Weekend the Saturday before for a pound. The bracelet that leaves red rings around my wrist every time I wear it, like I've suffered a particularly savage chinese burn.
"Ah, ok. Are you sure? I mean, we have fashion colours like this..." She flicks to the page with various garishly bright colours that just scream late-20's crisis to me. Now we're talking. Amongst them is
red
red.
"Yes! Perfect! That one! Definitely!"
"Er, are you sure?"
"Yes, definitely!"
"Really?"
"Yes!!"
And so, after she checked several more times that I was
absolutely sure
I really wanted to go through with it, she did all the painting and foiling jazz. And I was just sat their grinning, like an idiot. AND IT LOOKS SO COOL!
So glad I went for it. This is going to be an interesting week!
Seeing Spiritualized on Tuesday, and I get a little ripple of excitement going down my spine every time I think about it. One of my all time favourite bands. And the new single sounds just perfect. Yay!
Monday, May 12, 2008
Erase And Rewind
Ever since my early teens, I've had the habit of getting addicted to a song. I'll listen to it over and over again, until I know every word and can feel every undulation in it's sonic texture. In the olden days, I would record the song off the radio, and play the tape over and over again until it wore out. Since this proved problematic, with DJ's talking over it and interference getting in the way, I decided to go and work for the radio station instead, and cut out the middle man.
The latest track to suffer an evening of repetition is Scarlett Johansson's cover of
'Anywhere I Lay My Head'
by Tom Waits, from her forthcoming album of the same name. And I am more than a little surprised by this fact.
If I'm being totally honest, the only influence Scarlett has had on my music taste thus far has been my decision to buy the vinyl copy of the Lost In Translation soundtrack with her arse on the cover. But this is just stunning. Vocally I hear echoes of Siouxsie Sioux's deeper delivery on the likes of the Banshees cover of The Beatles' 'Dear Prudence'. The production by TV On The Radio's Dave Stinek is huge and the guitar from Yeah Yeah Yeah's Nick Zinner is perfect. It is better than I could possibly have imagined, and I just can't stop listening to it.
It's a woozy, laconic take on an already classic song that so suits my mood this evening it's almost tempting to believe it was recorded just for me.
My head is spinning round, my heart is in my shoes, yeah
I went and set the thames on fire, oh, now I must come back down
She's laughing in her sleeve boys, I can feel it in my bones
Oh, but anywhere Im gonna lay my head, Im gonna call my home.
Excuse me while I drift away...
Sunday, May 11, 2008
Made Of Stone
A weekend spent DJing or dancing or DJing and dancing. Another wonderful night playing in my favourite public house, and then the sunshine of Radio 1's Big Weekend in Maidstone. These were some of the highlights of the weekend...
1. The Ting Tings - That's Not My Name (Live)
2. Justice - We Are Your Friends
3. Madonna - Hung Up (Live)
4. Coldplay - Violet Hill
5. We Are Scientists - After Hours (Live)
6. Fatboy Slim vs Gorillaz - Gangsta Trippin/Dirty Harry (Live)
7. Paramore - Emergency (Live)
8. Foals - Red Sock Pugie (Live)
9. Vampire Weekend - M79 (Live)
10. The Scorpions - Winds Of Change
Full review of Saturday to come, but there was only one tune we sung all the way home...
They call me hell, they call me Davey,
They call me him, they call me Dane,
That's not my name!
That's not my name!
That's not my name!
That's not my name!
Wednesday, May 07, 2008
Tiny Vessels
Camden. Tuesday night. There's a queue outside the Electric Ballroom composed of possibly the most endearingly indie looking group of people I've ever seen in my life. A group I feel perfectly at home in. The touts are all struggling with the name of the night's headline act: Death Cab For Cutie. The modern poster boys for US Indie, thanks to being the soundtrack to many an emotional scene on The OC. But let's not judge them harshly for that...
I approach the gig with a mixture of excitement and apprehension. I worry that their delicate sound simply won't cut it live, that the level of anticipation in the room will ultimately be too great. But I am very pleasantly surprised. They rock, and I mean really rock, on several numbers. And the ballads come across well, perfectly suited to this wonderful venue. I'm only really familiar with the material from
The Photo Album
and
Transatlanticism
, but even the new songs are greeted with whups of joy from an electric audience.
Like Amelie staring back at people in the cinema, I love nothing more than staring back into the upturned, wide-eyed faces of fans, totally entranced by a band onstage. Plaid shirted fellows and doe-eyed girls are all transfixed by the band who really do seem to have some kind of magical aura around them tonight. The girls can barely see past the haircuts in front of us, but they don't really care. I spot a friend of a friend who beams at me, and for a while I'm stood next to the frontman of a UK band with at least one #1 album under their belts, who is as bewitched by the band in front of him as everyone else in the room.
They close with the heartbreaking 'Transatlanticism'. It's a song I chose as one of
my desert island discs
a year ago, but I can't pretend it's meaning hasn't changed immensely since then. The emotions it stirs under my skin remind me just why I live for moments like these. The song will mean something different to every person in the room, but we are all unified by the moment.
So come on...
Monday, May 05, 2008
Crashed The Wedding
So, this weekend, I became an International DJ. A friend's sister was getting married to her German fiance in Potsdam, near Berlin. She'd heard me playing records at her sister's birthday party in Brixton a couple of years back, and decided that she wanted me to be her wedding DJ. So she asked me to fly out especially, all expenses paid. I was hardly going to say no, was I?
And it was a great experience! Slightly surreal at times, as I was there for the whole build up, wedding, reception, and the aftermath. But they made me feel like one of the family, and I got to hang out with the rest of the guests, all of which led to some interesting encounters...
I mucked in as an usher on the morning of the ceremony, dodging bridesmaids in various states of undress, as we sorted out the flowers. Which were the wrong colour. Crisis! The fact that I remembered that the German for "flowers" is "Blumen" helped save the day... Or at least I like to think it did.
At the reception itself, I was sat at a table with two gay couples and an air hostess. Sorry. Female cabin crew member. Somewhat inevitably, we were the naughty table. I'd decided earlier that I wasn't going to drink before I starting playing. The moment I sat down, I realised this wasn't really going to be an option. Highlights of the evening included fights with rose petals covered in beer, balloons being inflated inside people's clothing (use your imagination...), a decorative bowl of hops being poured down the girl's dress, and raids of everyone's phones for photos they'd taken of themselves. You know the ones I mean.
Boy 1: Did someone else take that?!
Girl: No! I used the self timer.
Boy 2: Yeah, that can be handy can't it?
By the time I had to start playing, I was already fairly far gone. Germans do good beer. And it was great fun. I managed to squeeze in some local classics (Nena's '99 Luftballoons' filled the dancefloor, Kraftwerk's 'The Model' cleared it again... Lesson learnt.) By the end, they wouldn't let me stop. We went on long after we were supposed to finish, until the venue warned the groom that they'd cut the power unless we went home.
Back in my hotel bar, some of the guests and I wound down through the small hours. They were all native Germans from the groom's side. The conversation got as deep and meaningful as their excellent English and my fractured German would allow. They graciously waved away my apologies for mangling their language, as they explained that they have the same problem with Russian... Potsdam is in the East, and it's always fascinating talking to people my age who grew up on the other side of the iron curtain.
Back in my hotel room, I lay back on the bed with my head swimming, somewhat relieved it had all gone ok. I hadn't lost my records en route, I'd picked tunes that both British and German people knew, and everyone seemed to have enjoyed themselves. I checked my emails on my phone to the soundtrack of German MTV. Fragments of the world I'd left behind gently crept back into my mind as Amy Winehouse (who else?) emoted in the background.
Anyway, there was lots of travelling back and forth on trains, planes and automobiles. I saw more of Berlin Schoenfeld airport than any man needs to see. But I did get some Milka chocolate, a sweet guilty pleasure if every there was one, and read the NME cover to cover. And survived. Forget a mere list of tunes, here are the
albums
that helped keep me sane this weekend...
1. M83 - Saturdays=Youth
2. Nirvana - Bleach
3. Crystal Castles - Crystal Castles
4. Portishead - Third
5. Foals - Antidotes
6. Blood Red Shoes - Box Of Secrets
7. Be Your Own Pet - Get Awkward
8. The Long Blondes - Couples
9. We Are Scientists - Brain Thrust Mastery
10. Rilo Kiley - The Execution of All Things
Today I had the most chilled, moochy, blissed out, lazy, wonderful Bank Holiday Monday ever. Wandering around North London with a nice fuzzy head behind sunglasses, soaking in the gorgeous weather. Only I could get jetlag from a one hour time difference... All capped off with a long awaited re-viewing of Garden State this evening. Gonna be a good summer, I can feel it...
All opinions expressed within the pages and comments of this blog are solely those of the author, and not of his employers or associates. If you have any complaints, corrections or queries regarding any of the material contained within, please contact the author via
email
. Thanks for reading!